Photoshop CS2 Before and After Makeovers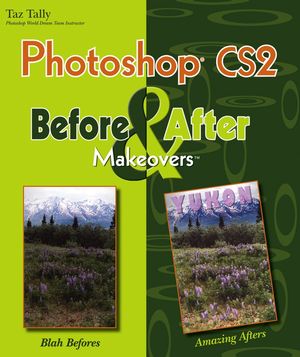 Description
You're no stranger to Photoshop. But sometimes, it certainly would simplify your life if you had a step-by-step recipe for fixing this problem or creating that effect. And wouldn't it be nice if you could see the expected result? Open this book and that's what you'll find. From basic enhancements like sharpening contrast and tweaking lighting to radical makeovers that change backgrounds or add elements, you simply pick your project, follow the directions, and watch blah "befores" become amazing "afters"!

The cream of the makeovers crop, including:
Dimensional makeovers, such as adding image area, altering dimensions, or creating a panorama.
Exposure enhancements--bringing subjects out of shadow or adjusting contrast.
Color corrections using highlights, adjusting color object by object, or matching color across images.
Controlling composition by desaturating, removing distracting objects, and creating a focal point.
Mode makeovers--interchanging black-and-white, color, grayscale, and transparency.
Repurposing images from digital to print or print to the Web.
A companion Web site with bonus makeover chapters, images from most of the projects in the book, and more.
Order your copy today!
Introduction.
1 ESSENTIAL MAKEOVER TOOLS.
Regulate Image Quality and Working Speed.
Streamline File Saving and Handling.
Control Appearance of Image Display and Workspace Elements.
Speed Up File Swapping with Proper Scratch Disks.
Achieve Effective Memory Use.
Alter Image Attributes with Histograms.
Adjust Brightness and Contrast with the Curves Dialog Box.
Make Simple Selections with the Magic Wand.
Fine-tune Selections with Keys and Palette Controls.
Complete Precision Selections Using Channels.
Refine and Retain Selections with Masks and Channels.
Working with Editing Tools: The Brush Tool.
Sharpening and Blurring Filters.
Layers: An Example.
2 DIMENSIONAL MAKEOVERS.
Making Over the Width and Height of your Digital Image.
Making Over Print Images for the Web.
Stretching the Truth Makeover Method 1.
Stretching the Truth Makeover Method 2.
Cropping Makeovers.
Adding Image and Background Acreage.
Making Over Multiple Images into Panoramas.
3 EXPOSURE MAKEOVERS.
Making Over Diffuse Highlights.
Making Over Specular Highlights/Increasing Overall Brightness.
Making Over Contrast in an Image.
Making Over Your Total Brightness and Contrast.
Making Over Backlit Images.
4 COLOR MAKEOVERS.
Performing a Basic Color Makeover.
Memory-Color Makeovers.
Doing a Quick-and-Dirty Color Makeover: To Neutralize or Not to Neutralize.
Doing More Complex Color Makeovers: Neutrals and Skin Tones.
Making Over Colors to Match.
5 COMPOSITION MAKEOVERS.
Doing an Image Extraction and Addition Makeover.
A Picture-Within-a-Picture Makeover.
A Crooked Makeover.
Making Over to Remove Distractions.
Making Over Your Foreground Focus.
Doing a Vignette Makeover.
What a Difference a Day Makes Makeover.
6 REPAIR MAKEOVERS.
Faded-Image Makeover.
Color Blemish-Removal Makeover.
Scratch-Removal Makeover.
Background-Repair Makeover.
Crease Repair.
"Removing the Years" Makeover.
Making Over to Remove JPEG Posterization.
7 COLOR-MODE MAKEOVERS.
Making Over Color to Grayscale.
Making Over Grayscale to Color.
Making Over by Painting with Color.
Colorizing with Curves.
Making Over Focus Attention by Desaturating.
Doing Duotone Makeovers.
Making Over Grayscale to B&W.
8 ADDING ELEMENTS AS A MAKEOVER.
A 3D Transparent-Frame Makeover.
Making Over How You Present Your Image.
Making Over Your Boring Space.
Doing a Collage/Montage Makeover.
9 SHARPENING MAKEOVERS.
Making Over Your Focus.
Doing a Portrait-Sharpening Makeover.
Making Over Line Art.
Doing a Wood-Grain Makeover.
10 SHADOW MAKEOVERS.
Making Over the Shadows for Your Objects.
Testing and Fine-Tuning Your Silhouette.
Doing a Full-Image Drop-Shadow Makeover.
Making Over Cast Shadows.
11 EFFECTS MAKEOVERS.
Doing Photo-Effects Makeovers.
Doing a Glow-Effects Makeover.
Doing a Metal-Effects Makeover.
Doing Painting-Effects Makeovers.
The Creating-a-Background-from-Nothing Makeover.
12 EXTREME MAKEOVERS.
Extreme Landscape Makeover.
Extreme Collage Makeover.
Guest Makeover: Neil Fraser.
INDEX.
"...great resource..." (Advanced Photoshop, July 2006)
Download the Example Files for Chapter 2

Download
Download the Example Files for Chapter 3
The code examples for this title are stored in a ZIP archive. To open it, you will need a computer with software capable of opening ZIP files. If you do not already have this capability, you can download a free trial of WinZip.
Download
Download the Example Files for Chapter 4

Download
Download the Example Files for Chapter 5

Download
Download the Example Files for Chapter 6
The code examples for this title are stored in a ZIP archive. To open it, you will need a computer with software capable of opening ZIP files. If you do not already have this capability, you can download a free trial of WinZip.
Download
Download the Example Files for Chapter 7
The code examples for this title are stored in a ZIP archive. To open it, you will need a computer with software capable of opening ZIP files. If you do not already have this capability, you can download a free trial of WinZip.
Download
Download the Example Files for Chapter 8
The code examples for this title are stored in a ZIP archive. To open it, you will need a computer with software capable of opening ZIP files. If you do not already have this capability, you can download a free trial of WinZip.
Download
Download the Example Files for Chapter 9
The code examples for this title are stored in a ZIP archive. To open it, you will need a computer with software capable of opening ZIP files. If you do not already have this capability, you can download a free trial of WinZip.
Download
Download the Example Files for Chapter 10
The code examples for this title are stored in a ZIP archive. To open it, you will need a computer with software capable of opening ZIP files. If you do not already have this capability, you can download a free trial of WinZip.
Download
Download the Example Files for Chapter 11
The code examples for this title are stored in a ZIP archive. To open it, you will need a computer with software capable of opening ZIP files. If you do not already have this capability, you can download a free trial of WinZip.
Download
Download the Example Files for Chapter 12
The code examples for this title are stored in a ZIP archive. To open it, you will need a computer with software capable of opening ZIP files. If you do not already have this capability, you can download a free trial of WinZip.
Download
Download the Example Files for Bonus Chapter 1
The code examples for this title are stored in a ZIP archive. To open it, you will need a computer with software capable of opening ZIP files. If you do not already have this capability, you can download a free trial of WinZip.
Download
Bonus Chapter 1: Repurposing Makeovers
This Bonus Chapter is in PDF format. You will need Adobe Reader installed to view this file. If you do not have Adobe Reader on your computer, you can download it from Adobe's website.
Download
Bonus Chapter 2: Collection Makeovers
This Bonus Chapter is in PDF format. You will need Adobe Reader installed to view this file. If you do not have Adobe Reader on your computer, you can download it from Adobe's website.
Download