Photoshop CS3 For Dummies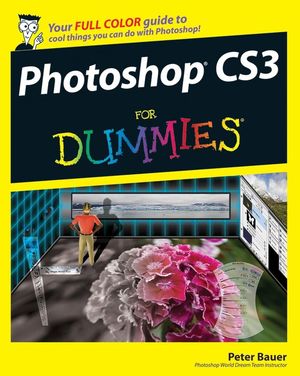 Photoshop CS3 For Dummies
ISBN: 978-1-118-05123-8 April 2011 416 Pages
Description
Loaded with the latest Photoshop tips and techniques
The secrets of digital image editing - explained in plain English!
Photoshop CS3 is a powerhouse, and here's the fast and easy way to get up to speed on all the coolest features. This friendly guide helps you get images into Photoshop - and then turn them into dazzling works of art. You'll see how to work in the right file formats, master the Brushes palette, get creative with filters, convert color to grayscale, and more!
Adjust brightness, improve color, and fix flaws
Take advantage of the Raw file format
Composite images with layers and blending modes
Automate your tasks with scripts and Actions
Apply the new Smart Filters to Smart Objects
Introduction.
Part I: Breezing through Basic Training.
Chapter 1: Welcome to Photoshop!
Chapter 2: Knowing Just Enough about Digital Images.
Chapter 3: Taking the Chef's Tour of Your Photoshop Kitchen.
Chapter 4: Getting Images into and out of Photoshop.
Part II: Easy Enhancements for Digital Images.
Chapter 5: Adding Dark Shadows and Sparkling Highlights.
Chapter 6: Making Color Look Natural.
Chapter 7: The Adobe Camera Raw Plug-In.
Chapter 8: Fine-Tuning Your Fixes.
Chapter 9: Common Problems and Their Cures.
Part III: Creating ""Art"" in Photoshop.
Chapter 10: Combining Images.
Chapter 11: Precision Edges with Vector Paths.
Chapter 12: Dressing Up Images with Layer Styles.
Chapter 13: Giving Your Images a Text Message.
Chapter 14: Painting in Photoshop.
Chapter 15: Filters: The Fun Side of Photoshop.
Part IV: Power Photoshop.
Chapter 16: Streamlining Your Work in Photoshop.
Chapter 17: Introducing Photoshop CS3 Extended.
Part V: The Part of Tens.
Chapter 18: Pete's Top Ten Favorite Photoshop Tips and Tricks.
Chapter 19: Ten Reasons to Love Your Wacom Tablet.
Chapter 20: Ten Reasons to Own a Digital Camera.
Index.
""…by the end you will know a lot more about Photoshop."" (
www.gadgetspeak.com
, Monday 13th August)