Photoshop CS3 Workflow: The Digital Photographer's Guide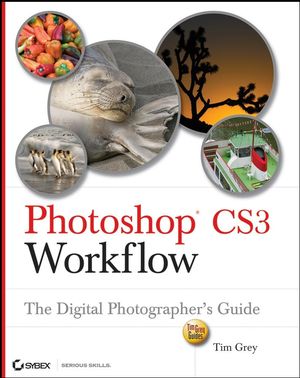 Photoshop CS3 Workflow: The Digital Photographer's Guide
ISBN: 978-0-470-17854-6
Aug 2007
336 pages
Product not available for purchase
Description
If you're like most artists, the idea of structuring your work may seem at odds with true creativity, but you'll be surprised to learn from digital imaging expert Tim Grey that just the opposite is true. This latest edition of his bestselling guide shows you how proper workflow can free you from the repetitive parts of a project and let you focus on your vision. Discover techniques that streamline processes, reduce your time and effort, and produce striking results.
Introduction.
Part I Getting Started.
Chapter 1 Workflow Foundations.
The Importance of Workflow.
Establishing a Workflow.
Revising Your Workflow.
Chapter 2 Download and Sort.
Adobe Bridge.
Sorting Images in Bridge.
Evaluating Images.
Printing Contact Sheets.
Chapter 3 RAW Conversion.
Benefits of RAW.
Converting with Camera Raw.
Batch Conversion in Camera RAW.
Archiving RAW Captures.
Part II Basic Adjustments.
Chapter 4 Rotate and Crop.
Basic Rotation.
Basic Cropping.
Arbitrary Rotation.
Chapter 5 Basic Tone and Color.
Interface Tools for Evaluation.
Prioritizing Adjustments.
Tonal Adjustments.
Color Adjustments.
Chapter 6 Image Cleanup.
Cleanup Workflow.
Clone Stamp.
Healing Brush.
Spot Healing Brush.
Patch Tool.
Part III Advanced Adjustments.
Chapter 7 Advanced Tonal Adjustments.
Shadow/Highlight.
Curves.
Exposure.
Dodge and Burn.
Chapter 8 Advanced Color Adjustments.
Hue/Saturation.
Curves for Color.
Selective Color.
Color Casts.
Targeted Color Painting.
Targeted Saturation Painting.
Chapter 9 Making Selections.
Understanding the Selection Tools.
Making Advanced Selections.
Modifying Selections.
Saving and Loading Selections.
Chapter 10 Targeted Adjustments.
Introduction to Masking.
Adjustment Layer Masking.
Layer Groups.
Chapter 11 Creative Adjustments.
Getting Creative.
Colorize.
Grayscale Conversion.
High Pass Sharpening.
Filters.
Creative Edges.
Part IV Finishing the Workflow.
Chapter 12 Saving Files.
Master Image Concept.
Filenames, Locations, and Formats.
Chapter 13 Workflow Automation.
Image Processor.
Actions.
Batch Processing.
Droplets.
Chapter 14 Output Processing.
Output Workflow.
Preserve the Master Image.
Process a Working Copy.
Save a Copy.
Appendix Sample Workflow Checklist.
Index.