Photoshop CS5 Restoration and Retouching For Digital Photographers Only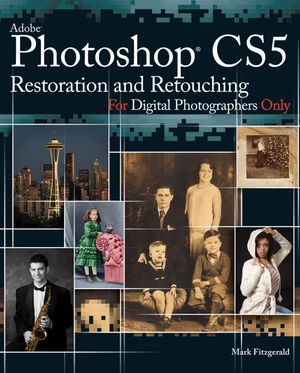 Photoshop CS5 Restoration and Retouching For Digital Photographers Only
ISBN: 978-0-470-61816-5
Jul 2010
384 pages
Product not available for purchase
Description
Adobe Photoshop CS5 Restoration and Retouching For Digital Photographers Only is the complete guide to restoration and retouching. Whether you're new to Photoshop, or if you've been using it for years, you'll learn lots of new tricks that will help put the beauty back into cherished family photos, and turn new photos into frameable works of art.

Follow Adobe Certified Photoshop Expert Mark Fitzgerald as he guides you through the restoration and retouching workflows. Begin by learning about basic concepts, such as proper tonal and color adjustment, selections, and masking. Then learn to master Photoshop's retouching tools, like the Healing Brush, Patch Tool, and Clone Stamp. After you build a solid foundation, you'll see how these tools and techniques come together to solve a wide range of restoration and retouching problems; from repairing a damaged print to removing braces and repairing glass glares.

Explore the tools and techniques with step-by-step expert instructions for downloadable practice files. Experience the total workflow as you complete three projects along side Mark from start to finish: a restoration project, a portrait retouching project, and an architectural retouching project.

This book is an update to Mark Fitzgerald's popular book, Adobe Photoshop CS3 Restoration and Retouching Bible.
Acknowledgments.
Introduction.
Part I Digital Editing Fundamentals.
Chapter 1 Getting Organized.
Chapter 2 Adjusting Brightness and Contrast.
Chapter 3 Managing and Correcting Color.
Chapter 4 Understanding the Advantages Layer.
Part II Photoshop Tools and Techniques.
Chapter 5 Using Selections to Isolate Content.
Chapter 6 Taking Control with Layer Masks.
Chapter 7 Using Photoshop's Main Retouching Tools.
Part III Restoration: Rescuing Damaged Photos.
Chapter 8 Starting with the Scan.
Chapter 9 Solving Typical Repair Problems.
Chapter 10 Finishing the Image.
Chapter 11 Hands-on Restoration Project: The Complete Workflow.
Part IV Retouching: Taking Your Images to the Next Level.
Chapter 12 Using Strategies for Success.
Chapter 13 Solving Special Portrait Retouching Problems.
Chapter 14 Hands-on Portrait Retouching Project: The Complete Workflow.
Chapter 15 Hands-on Architectural Retouching Project: The Complete Workflow.
Pro Glossary.
Index.