Photoshop Elements 2: Zero to Hero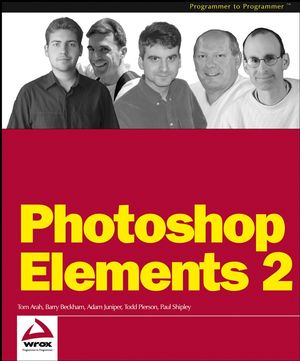 Photoshop Elements 2: Zero to Hero
ISBN: 978-0-764-54380-7
Dec 2002
288 pages
Product not available for purchase
Description
What is this book about?
Starting with the basics, this book gets you up and running in Photoshop quicker than you thought possible. "Chapter Zero" shows you around the program so you can skip ahead and produce the results you really want, fast.
Zero to Hero doesn't stop there. We also devote space to four Photoshop masters who share their skills and creativity. Within these pages, you'll find easy-to-follow, fully illustrated solutions to all the common, and not-so-common, problems that photographs present.
In the 96-page, full-color section — at the back of the book — the heroes reveal their projects in depth, sharing tips and tricks on the whole creative cycle, from shooting your photos right through the finished article. Packed with added insight, and backed up by free technical support, this book will give you the knowledge, and the inspiration, to be a Photoshop Elements 2 hero.
What does this book cover?
In this book, you will learn how to
Convincingly correct bad lighting in seconds
Swap people and objects from other photos
Combine amazing effects for artistic results
Add stylish captions and shapes
Animate your graphics
0. Zero.
1. Overall image adjustments.
2. Selection, copying and manipulation.
3. Layers.
4. Photo manipulation.
5. Words and Pictures.
6. Color, brushes, filters, and effects.
7. Outputting your work.
Hero 1: Graphic Design Techniques.
Hero 2: Creative Art from Photographs.
Hero 3: Fun Family Photographs.
Hero 4: Surreal Special Effects.
Index.