Photoshop Elements 2 For Dummies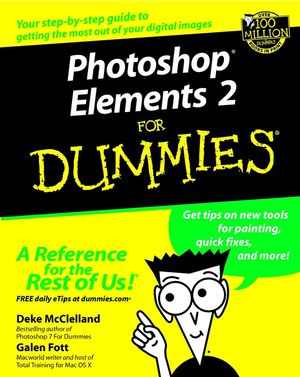 Photoshop Elements 2 For Dummies
ISBN: 978-0-764-51675-7
Sep 2002
424 pages
Description
As far as sequels go, Adobe Photoshop Elements 2.0 belongs in the ranks of The Godfather: Part II – a sequel that improves on the original. What made the first release of Elements so impressive wasn't that it was especially easy to use; it was how much of Photoshop's power you could get for such a low price. Elements 2.0, however, takes big steps forward in both power and ease.

Photoshop Elements 2.0 For Dummies explains this program from the ground up, assuming that you know absolutely nothing about the program or even about image editing in general. But step by step, concept by concept, tool by tool, you'll gradually work through a thorough examination of Photoshop Elements 2.0 and the incredible things it can do for your images.

While this book is organized in logical order, with the lofty idea that you'll read it cover to cover, the best thing about Photoshop Elements 2.0 For Dummies is that you don't have to. Feel free to skip around if you get restless. There are even 16 color pages stuck in the book to show you things that can't be explained in black and white. You'll gain insight into
Getting to know the Photoshop tools and palettes
Editing your images
Saving your files in proper format
Making a bad image better
Painting and distorting your images
Just as one CD contains both the Windows and Mac versions of Elements, so this one took tells both Windows and Mac users everything they need to know to use Elements on their system of choice. And because Elements 2.0 runs on both Windows XP and Mac OS X, we've also updated the figures in this book to show off the spiffy look of these two new operating systems.
As an Elements user, you've got a whole lot of Photoshop power coiled up inside your computer, waiting for you to discover how to harness it. Photoshop Elements 2.0 For Dummies is your guide for doing just that.
Introduction.

Part I: Elementary School.

Chapter 1: Braving the Elements.

Chapter 2: Dissecting Your Desktop.

Chapter 3: "Open!" Says Me.

Chapter 4: Pixels: It's Hip to Be Square.

Chapter 5: Over (and Under) the Rainbow.

Part II: Be Prepared.

Chapter 6: Saving with Grace.

Chapter 7: It's Perfect. No, Wait! Okay, Print.

Chapter 8: Making Selections on the Pixel Prairie.

Chapter 9: Layer Layer.

Part III: Realer Than Life.

Chapter 10: Dusting Off Images (Without the Lemony Scent).

Chapter 11: What Kind of Tool Am I?

Chapter 12: The Rainbow Correction.

Part IV: The Inspiration/Perspiration Equation.

Chapter 13: The Stylish Retouch.

Chapter 14: If a Picture Paints a Thousand Words Then Shut Up and Paint.

Chapter 15: The Digital Stencil.

Chapter 16: Type Righter.

Chapter 17: Can Photoshop Elements Do That?

Part V: The Part of Tens.

Chapter 18: Ten Shortcuts to Commit to Long-Term Memory.

Chapter 19: Ten Reasons You Might Possibly Want to Upgrade to Photoshop One Day.

Index.
"…well laid out and extremely easy to follow…" (Amateur Photographer, 29th October 2005)