Photoshop Elements 4 For Dummies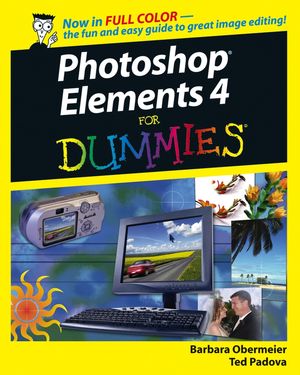 Description
Whether you're a hobbyist or a pro, look what you can do with Elements 4!
Photoshop Elements is all grown up - a powerful program that's easy to use and gives professional results. This book's step-by-step instructions and full-color examples help you take creative control of Photoshop Elements' tools. From sharpening and improving contrast to creating greeting cards, calendars, and photo albums in Windows, here's how to tweak, improve, print, and share great pictures.
Discover how to
Create sharp and colorful images for printing
Combine multiple images into creative collages
Correct color, contrast, and clarity
Share photos as PDF slideshows
Build a Web photo gallery
Organize and find photos fast
Introduction.
Part I: Getting Started.
Chapter 1: Getting to Know the Work Area.
Chapter 2: Getting Ready to Edit.
Chapter 3: Working with Resolutions, Color Modes, and File Formats.
Part II: Getting Organized.
Chapter 4: Getting Your Images.
Chapter 5: Viewing and Finding Your Images.
Chapter 6: Organizing and Managing Your Photos.
Part III: Selecting and Correcting Photos.
Chapter 7: Making and Modifying Selections.
Chapter 8: Working with Layers.
Chapter 9: Simple Image Makeovers.
Chapter 10: Correcting Contrast, Color, and Clarity.
Part IV: Exploring Your Inner Artist.
Chapter 11: Playing with Filters, Effects, Styles, and More.
Chapter 12: Drawing and Painting.
Chapter 13: Working with Type.
Part V: Printing, Creating, Sharing.
Chapter 14: Getting It on Paper.
Chapter 15: Showing It on Screen.
Chapter 16: Making Creations.
Part VI: The Part of Tens.
Chapter 17: Ten Tips for Composing Better Photos.
Chapter 18: Ten More Project Ideas.
Index.
Bonus Chapters.
Bonus Chapter 1: Exploring Audio and Video in Elements.
Bonus Chapter 2: Setting Up a Web Photo Gallery.
Bonus Chapter 3: Viewing and Searching Metadata.
Bonus Chapter 1: Exploring Audio and Video in Elements
Bonus Chapters are in PDF format. You will need Adobe Reader installed to view these files. If you do not have Adobe Reader on your computer, you can download it from Adobe's website.
Download
Bonus Chapter 2: Setting Up a Web Photo Gallery

Download
Bonus Chapter 3: Viewing and Searching Metadata

Download