Photoshop Elements 5 For Dummies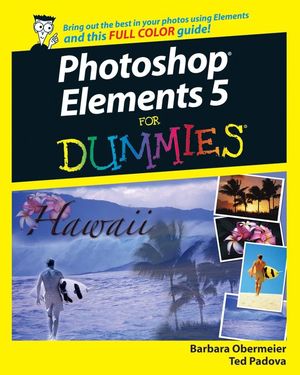 Photoshop Elements 5 For Dummies
ISBN: 978-0-470-12646-2
Apr 2007
384 pages
Description
Packed with tips and tricks for creating dazzling images
Explore layers, change backgrounds, fix flaws, and artistically enhance photos
Photoshop Elements 5 is a powerhouse, and here's the fast and easy way to get up to speed on all the coolest features. Whether you're new to digital photography or an old pro, you'll find out how to make quick fixes, fine-tune exposure, brush away flaws, and print and share photos.
Discover how to
Organize and manage your photos
Correct contrast, color, and clarity
Perform simple image makeovers
Obtain accurate color from your desktop color printer
Get artsy with the pencil and brush tools
Produce the family photo album
Introduction.
Part I: Getting Started.
Chapter 1: Getting to Know the Work Area.
Chapter 2: Getting Ready to Edit.
Chapter 3: Working with Resolutions, Color Modes, and File Formats.
Part II: Getting Organized.
Chapter 4: Getting Your Images.
Chapter 5: Viewing and Finding Your Images.
Chapter 6: Organizing and Managing Your Photos.
Part III: Selecting and Correcting Photos.
Chapter 7: Making and Modifying Selections.
Chapter 8: Working with Layers.
Chapter 9: Simple Image Makeovers.
Chapter 10: Correcting Contrast, Color, and Clarity.
Part IV: Exploring Your Inner Artist.
Chapter 11: Playing with Filters, Effects, Styles, and More.
Chapter 12: Drawing and Painting.
Chapter 13: Working with Type.
Part V: Printing, Creating, and Sharing.
Chapter 14: Getting It on Paper.
Chapter 15: Showing It On-Screen.
Chapter 16: Making Creations and Sharing.
Part VI: The Part of Tens.
Chapter 17: Ten Tips for Composing Better Photos.
Chapter 18: Ten More Project Ideas.
Index.