Photoshop Elements 6 For Dummies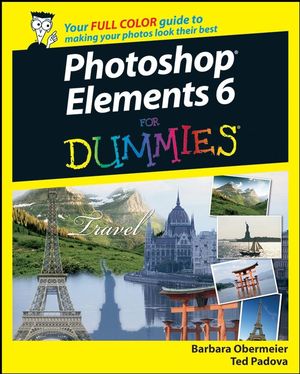 Photoshop Elements 6 For Dummies
ISBN: 978-1-118-05215-0
May 2011
400 pages
Product not available for purchase
Description
Want to get more fun from your photos?   To edit and enhance your pictures, fix flaws, and create greeting cards or cool photo projects to share? What about turning out some really professional prints with simply stunning color? Photoshop Elements can handle it, and Photoshop Elements 6 For Dummies gets you up and running on Elements in a hurry.

Photoshop Elements 6 is a reasonably priced, full-featured, powerful image-editing program for Windows (Adobe stopped supporting Elements for Mac with version 4.) This colorful guide helps you make the most of all its coolest features. You'll quickly get familiar with the work area and all the tools; be able to find, organize, and manage your images; correct common mistakes; and explore fun ways to share your photos. You'll discover how to:
Acquire images from your camera or scanner
Organize your files and photos you so can quickly find what you're looking for
Crop and straighten pictures, fix exposure, and clean up dust and scratches
Create sharp and colorful images for printing
Correct color, contrast, and clarity
Combine multiple images into creative collages
Use filters to create different effects
Turn your photos into slide shows, movie files, or Web-hosted images
Elements has something for everyone, from beginning dabblers to serious photo hobbyists to professionals. With plenty of full-color illustrations that show what you can achieve, this friendly guide will help you use Elements to make the most of your digital photos.
Introduction.
Part I: Getting Started.
Chapter 1: Getting to Know the Work Area.
Chapter 2: Getting Ready to Edit.
Chapter 3: Working with Resolutions, Color Modes, and File Formats.
Part II: Getting Organized.
Chapter 4: Getting Your Images.
Chapter 5: Viewing and Finding Your Images.
Chapter 6: Organizing and Managing Your Photos.
Part III: Selecting and Correcting Photos.
Chapter 7: Making and Modifying Selections.
Chapter 8: Working with Layers.
Chapter 9: Simple Image Makeovers.
Chapter 10: Correcting Contrast, Color, and Clarity.
Part IV: Exploring Your Inner Artist.
Chapter 11: Playing with Filters, Effects, Styles, and More.
Chapter 12: Drawing and Painting.
Chapter 13: Working with Type.
Part V: Printing, Creating, and Sharing.
Chapter 14: Getting It on Paper.
Chapter 15: Showing It Onscreen.
Chapter 16: Making Creations and Sharing.
Part VI: The Part of Tens.
Chapter 17: Ten Tips for Composing Better Photos.
Chapter 18: Ten More Project Ideas.
Index.
"...if you simply want to understand the core features of the software then this may be the book for you." (Business Network, August 2008)