Photoshop Elements 8 After the Shoot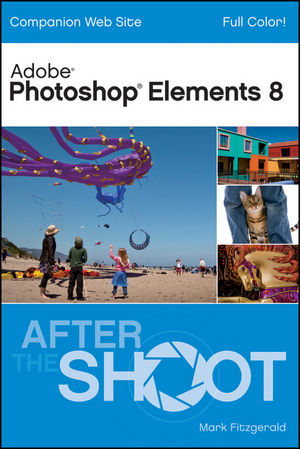 Description
A handy, full-color reference for using Photoshop Elements 8 while on the go
Photoshop Elements combines an easy-to-use set of features and enhancements with image editing power in an affordable program. The newest version—Photoshop Elements 8—features more online integration with products like the new Flash-based Web galleries.
Featuring a convenient trim size that goes where you go, this portable guide is essential reading for Elements users and especially suited if you are a mobile user who wants to edit and post your digital photographs while on the go.
Serves as a portable reference for effectively using the tools and features of Photoshop Elements 8
Offers a firm understanding of how to organize, correct, restore, and display digital photos and scanned images using Photoshop Elements 8
Appeals to anyone who needs to edit and post digital photos
Presents numbered steps and helpful examples to walk you through the most common Photoshop Elements 8 tasks
Provides examples and inspiration for using your digital images in print or online
Photoshop Elements 8 After the Shoot is the perfect guide if you are looking for a clear, concise, and portable guide to Photoshop Elements.
About the Author.
Acknowledgments.
Introduction.
Chapter 1: Understanding the Purpose of Photoshop Elements.
Chapter 2: Importing Photos into the Organizer.
Chapter 3: Understanding the Organizer.
Chapter 4: Building and Maintaining an Organized System.
Chapter 5: Introduction to Editing Photos.
Chapter 6: Adjusting Brightness and Contrast.
Chapter 7: Working with Color.
Chapter 8: Working with Raw Files.

Chapter 9: Making Local Adjustments to Tone and Color.
Chapter 10: Improving Your Photos with Retouching.
Chapter 11: Combining Multiple Photos.

Chapter 12: Adding Special Effects to Your Photos.
Chapter 13: Making Final Adjustments.
Chapter 14: Sharing Your Photos.

Glossary.
Index.