Photoshop Secrets of the Pros: 20 Top Artists and Designers Face Off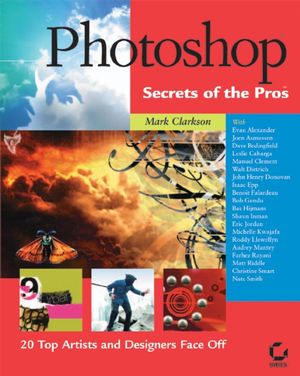 Photoshop Secrets of the Pros: 20 Top Artists and Designers Face Off
ISBN: 978-0-782-14191-7
Dec 2003
278 pages
Product not available for purchase
Description
"This has to be the most unusual book on Photoshop ever published. A very clever one, too, and a must-have for dedicated Shopoholics."
—DingBat Magazine

Photoshop Secrets of the Pros is not your typical Photoshop book, laboriously marching you through features, filters, and techniques. This book throws you right into the thick of things, dropping you ringside for a series of digital duels and artistic collaborations. In this groundbreaking guide top artists challenge each other in a series of Photoshop Tennis matches—and you get to peer over their shoulders. You'll watch them put Photoshop through its paces, creating incredible new work under grueling deadlines. You'll see which tools and techniques they use, and how and why they choose them when the clock is ticking and the world is watching.

Open up this unique book and:
Get caught up in the action: Watch 20 of the world's top digital artists, photographers, and web and print designers compete, mouse to mouse.
Eavesdrop on the experts: Enter the artists' heads as they explain each decision they make.
Find out how it's done in the real world: See 100 pieces of original art dissected, component by component and technique by technique.
Discover pro secrets: Learn how Photoshop's basic tools are used to create fantastic effects in record time.
Note: CD-ROM/DVD and other supplementary materials are not included as part of eBook file.
The Secret Life of Photoshop Designers.
The History of Photoshop Tennis.
Everybody Plays.
Photoshop Tennis Rules (Such as They Are).
The Matches in This Book.
About the CD.
Keyboard Conventions.
Match 1: Isaac Epp vs. Matt Riddle.
Match 2: Shaun Inman vs. Leslie Cabarga.
Match 3: Eric Jordan vs. Benoit Falardeau.
Match 4: Roddy Llewellyn vs. John Henry Donovan.
Match 5: Audrey Mantey vs. Joen Asmussen.
Match 6: Bas Hijmans vs. Evan Alexander.
Match 7: Christine Smart vs. Manuel Clement.
Match 8: Bob Gundu vs. Farhez Rayani.
Match 9: Michelle Kwajafa vs. Nate Smith.
Match 10: Dave Bedingfield vs. Walt Dietrich.
Everything I Need to Know, I Learned from Photoshop Tennis.
Real Designers Do Less, Get Paid More.
Master the Basics.
Three Words: Layers, Layers, Layers.
Blend to Win.
Preserve Your Elements.
You Can Never Have Too Many Brushes.
Add Some Texture.
Filter in Moderation.
Don't Think.
Index.
What's on the Companion CD.
Chapter
Page
Details
Date
Print Run
Combined Errata


Page 5

Column 2, line 3, the url listed is incorrect "www.12stone.com" should be "www.twelvestone.com"




---