Phthalocyanines, Properties and Applications, 4 Volumes Set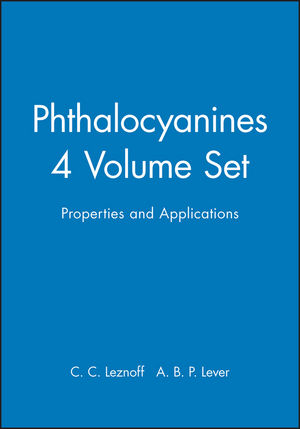 Phthalocyanines, Properties and Applications, 4 Volumes Set
ISBN: 978-0-471-23899-7 June 1997 1568 Pages
Description
The definitive reference for phthalocyanine compound research and application
By themselves as macrocyclics, phthalocyanines are of limited use; however, their metal complexes are critical to numerous industries as dyes, pigments, and industrial catalysts. Phthalocyanines is a complete, comprehensive reference toward the properties and applications of these compounds, presented as a four-volume set. Covering all aspects of synthesis, bonding, behaviors, characteristics, spectroscopy, hazards, reactions, and much more, this set provides chemists, biochemists, and molecular biologists with the information they need to work effectively with this large family of compounds.
Table of contents
The Redox Chemistry of Metallophthalocyanines in Solution (A. Lever, et al.).
Electrochromism and Display Devices (M. Nicholson).
Phthalocyanine-Based Molecular Electronic Devices (B. Simic-Glavaski).
Raman Spectra of Phthalocyanines (W. Smith & B. Rospendowski).
Absorption and Magnetic Circular Dichroism Spectral Properties of Phthalocyanines
Part 2: Ring-Oxidized and Ring-Reduced Complexes (M. Stillman).