Physical Assessment for Nurses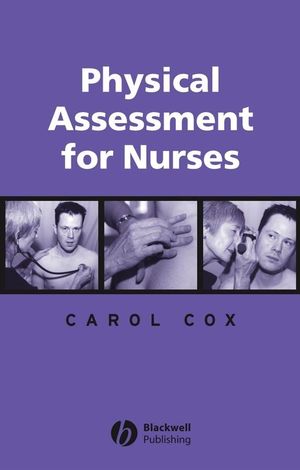 Physical Assessment for Nurses
ISBN: 978-0-470-77468-7 February 2008 Wiley-Blackwell 368 Pages
Description
Physical assessment is a means of evaluating health status using a combination of clinical examination and history taking. A complete physical assessment should form the basis of all nursing care.


Physical Assessment for Nurses is aimed at all advanced nurse practitioners and nurses preparing to become advanced nurse practitioners. It forms the foundation for extending practice. The text explores best practice in history taking and summarises the key clinical skills needed to develop and improve physical examination skills and to competently assess, diagnose, plan and provide care.


Physical Assessment for Nurses is adapted for nurse practitioners from Turner and Blackwood: Lecture Notes on Clinical Skills (Third edition).
Foreword: Advanced Clinical Practice Nursing.
Preface.
Acknowledgements.
Introduction: The First Approach.
Chapter 1. History Taking.
Chapter 2. General Examination.
Chapter 3. Examination of the Cardiovascular System.
Chapter 4. Examination of the Respiratory System.
Chapter 5. Examination of the Abdominal System.
Chapter 6. Mental Health Assessment.
Chapter 7. Examination of the Nervous System.
Chapter 8. Examination of the Musculoskeletal System.
Chapter 9. Assessment of the Child.
Chapter 10. Assessment of Disability Including Care of the Older Adult.
Chapter 11. Basic Examination, Notes and Diagnostic Principles.
Chapter 12. Presenting Cases and Communication.
Chapter 13. Imaging Techniques and Clinical Investigations.
Chapter 14. The 12-Lead Electrocardiogram.
Chapter 15. Interpretation of Investigations.
Chapter 16. Laboratory Results — Reference Values.
Chapter 17. Common Emergency Treatments.
Appendices.
Index.
' This is one of the most concise, informative clinical books I have seen in a long time. It will appeal to those clinicians moving into the field of undertaking and recording physical assessments and presenting findings and also provides enough material to act as a teaching resource for any level of children.' -Accident and Emergency Nursing
* Concise practical guide to history taking and physical examination
* Adopts a system-by-system approach
* Signposts patient problems
* Delineates processes used in formulating a differential and formal diagnosis
* Explores best practice and key clinical skills
* Includes a colour plates section and over 200 illustrations