Physical Geography: Science and Systems of the Human Environment, Canadian Version, 4th Edition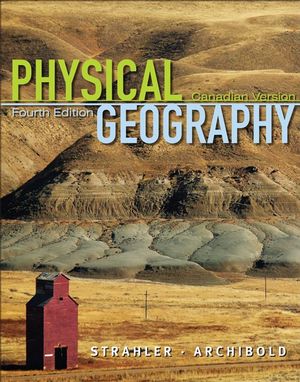 Physical Geography: Science and Systems of the Human Environment, Canadian Version, 4th Edition
Description
Based upon the bestselling Third Edition, this new edition of Physical Geography introduces O.W. Archibold (University of Saskatchewan) as co-author, and features fully integrated Canadian content. The fourth edition of this highly regarded systems based text has been developed with the collaboration of instructors from across Canada in order to publish a text that better reflects the pedagogical needs of Canadian instructor and student alike. This text has been widely praised for its comprehensiveness of material, excellent writing style and pedagogy that helps the reader better understand the concepts of physical geography. The fourth edition builds upon this reputation to provide a text that is responsive to how physical geography is taught in Canada. Canadian examples are integrated throughout the text to help students learn from local examples to gain an understanding of global systems. This edition also features an expanded instructor resource package that will provide greater flexibility in course delivery and enhance the learning experience.
Part 1 Introduction
1  Introducing Physical Geography
Part 2 Weather and Climate Systems
2  The Earth as a Rotating Planet
3  The Global Energy System
4  Air Temperature and Air Temperature Cycles
5  Atmospheric Moisture and Precipitation
6  Winds and the Global Circulation System
7  Weather Systems
8  The Global Scope of Climate
9  Low-Latitude Climates
10  Midlatitude and High-Latitude Climates
Part 3 Systems and Cycles of the Solid Earth
11  Earth Materials and the Cycle of Rock Change
12  The Lithosphere and the Tectonic System
13  Volcanic and Tectonic Landforms
Part 4 Systems of Landform Evolution
14  Weathering and Mass Wasting
15  The Cycling of Water on the Continents
16  Fluvial Processes and Landforms
17  Landforms and Rock Structure
18  The Work of Waves and Wind
19  Glacier Systems and the Ice Age
Part 5 Systems and Cycles of Soils and the Biosphere
20  Soil Systems
21  Systems and Cycles of the Biosphere
22  Biogeographic Processes
23  Global Ecosystems
Index
CONTENT
Local Canadian content is fully integrated wherever possible in balance with global examples, backing up the theme "Local is Global".
Extensive Canadian examples in photos, descriptions, and diagrams run throughout the text.
DESIGN AND PEDAGOGY
Exciting new visual layout and design. The fourth edition has been redesigned to enhance readability.
SUPPLEMENTS
Canadian instructor resources will include a full image bank, end of chapter questions, instructor's manual, and test bank.
TECHNOLOGY
Showcase site: Physical Geography will have a showcase site that will be made available to instructors throughout the spring so they can follow the progress of the text as it is created.
The new edition will continue to have full WileyPLUS capability. The WileyPLUS package integrates the e-book with animations and videos from GeoDiscoveries. As well as full testing and quizzing capabilities, this very robust multimedia package offers interactive resources and experiences to help students understand key concepts in physical geography.
Accuracy: This text has been praised for its accuracy in conveying key physical geography concepts to the undergraduate student. This accuracy helps students understand key concepts, which are crucial to further study in the discipline.
Currency: This title includes the most up-to-date information available. With the growth of remote sensing, GIS, and other geographic techniques, currency in textbooks has become increasingly important.
Comprehensive coverage of key concepts in Physical Geography: This is the main reason instructors continue to select Physical Geography: Science and Systems of the Human Environment as their book of choice.
Outstanding new art program: The photographic and illustration program has been fully revised to help students understand key scientific concepts in physical geography. Reviewers have praised the authors for their effective integration of these visuals into the text.
Critical thinking: The text provides the tools that students need to think critically and scientifically.