Physical Geology, Enhanced eText, 3rd Edition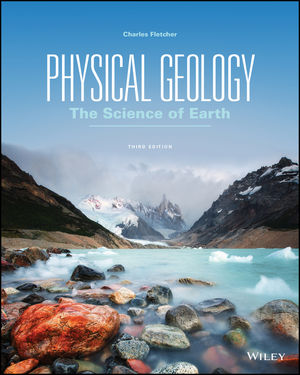 Physical Geology, Enhanced eText, 3rd Edition
ISBN: 978-1-119-31887-3 July 2017 600 Pages
Description
Physical Geology: The Science of Earth, 3rd Edition provides students with a variety of ways to learn the content of physical geology and offer them an opportunity to learn through multiple intelligences. Throughout the text, the challenge of critical thinking and the high-interest of relevant subject matter is used to build on other knowledge. Physical Geology: The Science of Earth, 3rd Edition explores all the standard introductory Physical Geology topics using recent research, innovative pedagogy and a stunning art program to show students how they can take geology and apply it to their world as a whole.
PREFACE vii
1 An Introduction to Geology 1
2 Solar System 31
3 Plate Tectonics 57
4 Minerals 90
5 Igneous Rock 122
6 Volcanoes 151
7 Weathering 186
8 Sedimentary Rock 221
9 Metamorphic Rock 256
10 Mountain Building 280
11 Earthquakes 314
12 Geologic Time 351
13 Earth's History 382
14 Climate change 412
15 Glaciers and Paleoclimatology 459
16 Mass Wasting 497
17 Surface Water 524
18 Groundwater 556
19 Deserts and Wind 587
20 Coastal Geology 613
21 Marine Geology 649
GLOSSARY 679
INDEX 691
Updated and expanded content around important and timely topics such as peak oil, global warming, drought and water stress, population growth, natural hazards, and environmental management.
Streamlined text updates, which make reading easier to navigate and more efficient.
Ease of Reading: Fundamental principles of geology are arranged around specific learning objectives. Students find the book approachable, succinct, easy to read, and extremely well organized.
Critical Thinking exercises are woven into each chapter and are linked to illustrations and photos.
Knowledge and Comprehension Questions allow students to check their understanding as they navigate learning objectives.
Expand Your Thinking questions ask students to analyze or synthesize specific case studies. For example; explaining why climate change has an impact in one region, yet a different impact on another.
Animations & Videos supplement the reading and provide real-world examples of geological features and processes.