Physical Geology: The Science of Earth, 2nd Edition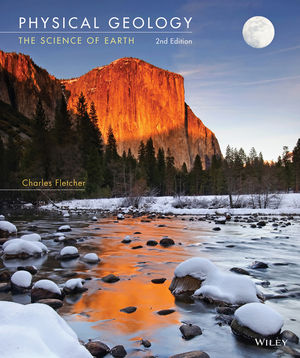 Physical Geology: The Science of Earth, 2nd Edition
ISBN: 978-1-118-73642-5
Mar 2014
704 pages
Product not available for purchase
Description
Physical Geology: The Science of Earth is a flexible learning tool that equips students with assets and content necessary to understand our planet and the science that drives it. By combining traditional introductory content with unique topics and innovative pedagogy, author Chip Fletcher challenges students to think critically about physical geology and its impact on their lives and the planet.
Chapter 1 An Introduction to Geology
Chapter 2 Solar System
Chapter 3 Plate Tectonics
Chapter 4 Minerals
Chapter 5 Igneous Rock
Chapter 6 Volcanoes
Chapter 7 Weathering
Chapter 8 Sedimentary Rock
Chapter 9 Metamorphic Rock
Chapter 10 Mountain Building
Chapter 11 Earthquakes
Chapter 12 Geologic Time
Chapter 13 Earth's History
Chapter 14 Climate Change
Chapter 15 Glaciers and Paleoclimatology
Chapter 16 Mass Wasting
Chapter 17 Surface Water
Chapter 18 Groundwater
Chapter 19 Deserts and Wind
Chapter 20 Coastal Geology
Chapter 21 Marine Geology
Ease of Reading: We deliver the fundamental principles of geology arranged around specific learning objectives. Students find the book approachable, succinct, easy to read, and extremely well organized.
On-line Grading: The hundreds of critical thinking questions and exercises in this text are all graded automatically on-line with the WileyPLUS course management system. The WileyPLUS system automatically records grades in a spreadsheet. Thus, the instructor's workload, especially in large classrooms, is significantly reduced.
For ease of reading, we offer text in two page segments. Students find the book approachable, succinct, and extremely well organized.
Woven into each page are critical thinking exercises (similar to lab exercises) linked to illustrations and photos. These can all be graded automatically on-line.
Relevant and provocative global issues such as peak oil, global warming, drought and water stress, population growth, natural hazards, environmental management, and others are discussed
Classroom problems are provided to supplement lectures.
Emphasizing the basic principles of geology, this text is easy to adopt into an existing syllabus. For example, plate tectonics is introduced early, and the entire text teaches to tectonics as a unifying theory of geology.
The writing is clear and jargon free. Reviewers emphasized, "These chapters are especially easy to read!"
Every page has several pieces of accurate, detailed, beautiful illustrations and photos.