Physical Methods of Chemistry, Volume 10, Supplement and Cumulative Index, 2nd Edition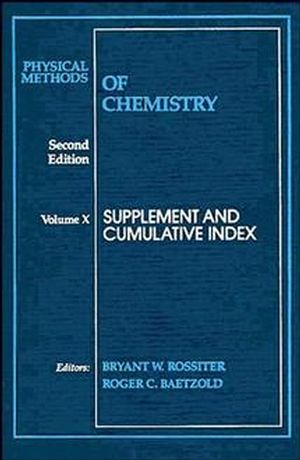 Physical Methods of Chemistry, Volume 10, Supplement and Cumulative Index, 2nd Edition
ISBN: 978-0-471-57086-8 October 1993 408 Pages
Description
Each volume of this series heralds profound changes in both the perception and practice of chemistry. This edition presents the state of the art of all important methods of instrumental chemical analysis, measurement and control. Contributions offer introductions together with sufficient detail to give a clear understanding of basic theory and apparatus involved and an appreciation of the value, potential and limitations of the respective techniques. The emphasis of the subjects treated is on method rather than results, thus aiding the investigator in applying the techniques successfully in the laboratory.
Analytical Supercritical Fluid Chromatography and Extraction (J.King, et al.).

Liquid Chromatography (C. Lochmuller & T. Wenzel).

Indexes.