Physical Methods of Chemistry, Volume 9, Part A, Investigations of Surfaces and Interfaces, 2nd Edition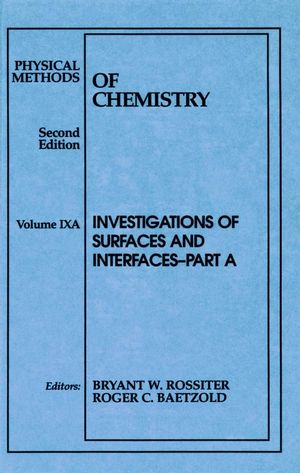 Physical Methods of Chemistry, Volume 9, Part A, Investigations of Surfaces and Interfaces, 2nd Edition
ISBN: 978-0-471-54406-7 December 1992 528 Pages
Description
Each volume of this series heralds profound changes in both the perception and practice of chemistry. This edition presents the state of the art of all important methods of instrumental chemical analysis, measurement and control. Contributions offer introductions together with sufficient detail to give a clear understanding of basic theory and apparatus involved and an appreciation of the value, potential and limitations of the respective techniques. The emphasis of the subjects treated is on method rather than results, thus aiding the investigator in applying the techniques successfully in the laboratory.
Table of contents
Surface Tension and Its Measurement (A. Couper).

Techniques for the Study of Adsorption from Solution (N. Kallay, etal.).

Scanning Tunneling Microscopy (A. de Lozanne).

High Resolution Electron Energy Loss Spectroscopy (W. Ho).

Secondary Ion Mass Spectroscopy (C. Greenlief & J.White).

Molecular Beams: Probes of the Dynamics of Reactions on Surfaces(S. Ceyer, et al.).

Laser-Induced Thermal Desorption (S. George).

Index.