Physical Properties of Polymeric Gels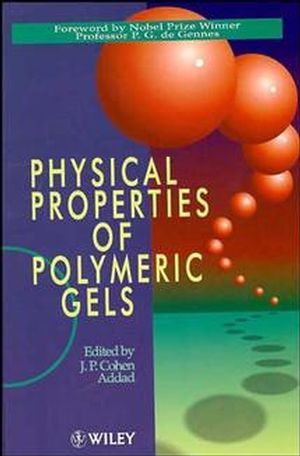 Physical Properties of Polymeric Gels
ISBN: 978-0-471-93971-9 April 1996 324 Pages
Description
This book emphasizes the relationship between the microscopic structure of gels and their macroscopic behaviour. Deals with organic polymeric gels, focusing on experimental methods which have only recently been introduced to study both reversible and irreversible gels. It introduce the reader with to theory and practice of physics as applied to the study of characteristics of polymeric gels and offers several clearly described basic approaches to experimental investigations into gel properties. An outstanding resource on experimental advances and modern interpretations of polymeric gel properties written by prominent experts in the field.
Table of contents
Semi-Dilute Polymer Solutions (J. Joanny).
Properties of Polyelectrolyte Gels (U. Schroder W. Oppermann).
NMR and Statistical Structures of Gels (J. Cohen Addad).
Sol-Gel Transition (M. Adam D. Lairez).
Structure of Gels as Investigated by Means of Static ScatteringTechniques (J. Bastide S. Candau).
Appendix.
Index.