Physical Science: What the Technology Professional Needs to Know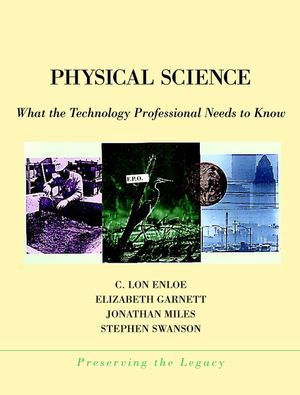 Physical Science: What the Technology Professional Needs to Know
ISBN: 978-0-471-36018-6 December 2000 560 Pages
Description
This is an introductory book that provides students with the tools to master the basic principles of physics and chemistry needed by the aspiring technology professional. Like all the books in the critically acclaimed Preserving the Legacy series, each chapter is divided into subsections featuring learning objectives and a "Check Your Understanding" section to help students focus on important concepts. Questions requiring written and mathematical answers at the end of each chapter provide students with the opportunity to further demonstrate their understanding of the concepts. The only book available that specifically addresses the emerging need for a course to teach physics and chemistry principles to the growing number of students entering the various fields of technology, it offers a thorough grounding in foundational concepts along with "Technology" boxes that offer practical applications. Physical Science: What the Technology Professional Needs to Know features:
* Crucial topics such as measuring systems, matter, energy, motion, electricity and magnetism, electromagnetic radiation, nuclear radiation and reactions, and chemical reactions and solutions
* Integrated coverage linking specific concepts to everyday applications
* An extensive glossary offering quick access to essential terminology
* An accompanying laboratory manual with additional exercises to enhance learning

With its comprehensive coverage and quick-reference format, Physical Science: What the Technology Professional Needs to Know is also a handy resource for any technology professional needing a quick refresher or useful working reference.
Table of Contents.

Preface.

Acknowledgements.

The Nature of Physical Science.

Making Measurements.

Measuring with Instruments and Reporting Data.

The Nature of Matter.

Matter in Motion and Newton's Laws.

Energy.

Chemical Reactions and Solutions.

Electricity and Magnetism.

Electromagnetic Radiation and Optics.

Organic Chemistry.

Nuclear Radiation, Reactions, and Energy.

Appendix A -
The Quantum Mechanical Model of the Atom.

Appendix B -
Inorganic Nomenclature.

Appendix C -
Derived Units.

Glossary.

Index.