Physical and Chemical Hydrogeology, 2nd Edition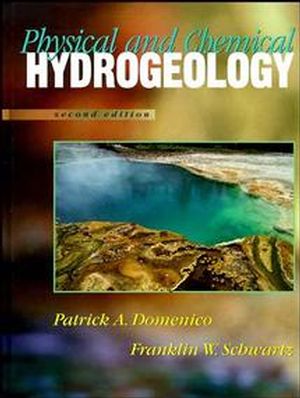 Physical and Chemical Hydrogeology, 2nd Edition
ISBN: 978-0-471-59762-9 September 1997 528 Pages
Description
This book shows readers how to apply hydrogeology principles to a host of problems related to water supply, contamination, and energy resources. It discusses hydraulic testing, modeling of contaminant transport, process and parameter determination, and remediation. It also addresses porosity, permeability, and flow for continental environments, marine environments, and the borders between them.
Table of contents
The Origin of Porosity and Permeability.

Ground-Water Movement.

Main Equations of Flow, Boundary Conditions, and Flow Nets.

Ground Water in the Basin Hydrologic Cycle.

Hydraulic Testing: Models, Methods, and Applications.

Ground Water as a Resource.

Stress, Strain, and Pore Fluids.

Heat Transport in Ground-Water Flow.

Solute Transport.

Principles of Aqueous Geochemistry.

Chemical Reactions.

Colloids and Microorganisms.

The Equations of Mass Transport.

Mass Transport in Natural Ground-Water Systems.

Mass Transport in Ground-Water Flow: Geologic Systems.

Introduction to Contaminant Hydrogeology.

Modeling the Transport of Dissolved Contaminants.

Multiphase Fluid Systems.

Remediation: Overview and Removal Options.

In Situ Destruction and Risk Assessment.

Answers to Problems.

Appendices.

References.

Index.