Physics, Volume 1, 5th Edition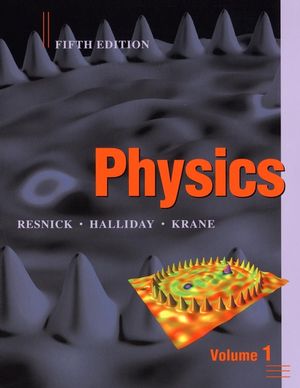 Physics, Volume 1, 5th Edition
ISBN: 978-0-471-32057-9 April 2001 624 Pages
Description
Written for the full year or three term Calculus-based University Physics course for science and engineering majors, the publication of the first edition of Physics in 1960 launched the modern era of Physics textbooks. It was a new paradigm at the time and continues to be the dominant model for all texts. Physics is the most realistic option for schools looking to teach a more demanding course.
Table of contents
Measurment.

Motion in on Dimension.

Force and Newton's Laws.

Motion in Two and Three Dimensions.

Application of Newton's Law.

Momentum.

Systems of Particles.

Rotational Kinematics.

Rotational Dynamics.

Angular Momentum.

Energy 1: Work Kinetic Energy.

Energy 2: Potential Energy.

Energy 3: Conservation of Energy.

Gravitation.

Fluid Statics.

Fluid Dynamics.

Oscillations.

Wave Motion.

Sound Waves.

The Special Theory of Relativity.

Temperature.

Molecular Properties of Gases.

The First Law of Thermodynamics.

Entropy and the Second Law of Thermodynamics.

Appendices.

Amswers to Odd Numbered Problems.

Photo Credits.

Index.
New To This Edition
Entire book edited to clarify conceptual development in light of recent findings of physics education research.
Following the inspiration of Arnold Arons, the Mechanics sequence is re-organized so that energy is the capstone topic.
End-of-chapter problem sets are thoroughly over-hauled - new problems are added, out-dated references are deleted, and new short-answer conceptual questions are added.
The presentation of Thermodynamics and Quantum Mechanics has been revised to provide a more modern approach to these topics.
The supplement package for both students and instructors have been greatly expanded. For students there are a Student Study Guide, Student Solutions Manual, and Student Website. For instructors there are a Instructor's Solutions Manual (both print and electronic), Test Bank, Computerized Testbank, Tranparencies, and IRCD with Simulations.
What's New
Widely acknowledged to be the most complete and authoritative survey text in Physics.
Most mathematically complete and challenging text available.