Physics Matters: An Introduction to Conceptual Physics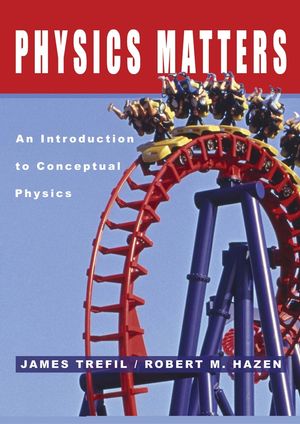 Physics Matters: An Introduction to Conceptual Physics
ISBN: 978-0-471-15058-9
Jan 2004
720 pages
Description
Physics Matters is a textbook for an introductory physics course for non-science majors. Written by authors who have vast experience in communicating science to general audiences, Physics Matters conveys the principles of physics in a manner that is understandable to non-majors. In a prose style that is clear, engaging, and contemporary, it pays particular attention to the relevance of physics in comprehending our modern technological society and the issues created by those technologies.
It offers a broad, relatively non-mathematical, and highly readable survey of all the standard topics in physics.
Buy Both and Save 25%!
Original Price:$203.90
Purchased together:$152.92
save $50.98
Cannot be combined with any other offers.
Buy Both and Save 25%!
Original Price:$204.90
Purchased together:$153.67
save $51.23
Cannot be combined with any other offers.
PART I. INTRODUCTION.
1. Science: A Way of Knowing.
2. The Language of Science.
PART II. MECHANICS AND ENERGY.
3. Motions in the Universe.
4. Isaac Newton and the Laws of Motion.
5. The Law of Universal Gravitation.
6. Conservation of Linear Momentum.
7. Rotational Motion of an Object.
8. Kinetic and Potential Energy.
PART III. MATTER, ENERGY, AND THE LAWS OF THERMODYNAMICS.
9. Atomic Structure and Phases of Matter.
10. Properties of Matter.
11. Heat and Temperature.
12. The First Law of Thermodynamics.
13. Entropy and the Second Law of Thermodynamics.
PART IV. WAVES.
14. Vibrations and Waves.
15. Sound.
PART V. ELECTRICITY AND MAGNETISM.
16. Electric and Magnetic Forces.
17. Electromagnetic Interactions.
18. Electric Circuits.
19. The Electromagnet ic Spectrum.
20. Classical and Modern Optics.
PART VI. THE ATOM.
21. Atomic Structure and Interactions.
22. Quantum Mechanics.
23. Chemical Bonds and Physical Properties.
24. Electrical and Magnetic Properties of Materials.
25. Semiconductor Devices and Information Technology.
PART VII. THE NUCLEUS AND ELEMENTARY PARTICLES.
26. The Nucleus of The Atom.
27. The Ultimate Structure of Matter.
PART VIII. RELATIVITY AND COSMOLOGY.
28. Albert Einstein and the Theory of Relativity.
29. Cosmology.
Appendix A: Units and Numbers.
Appendix B: Selected Physical Constants.
Appendix C: Periodic Table and Atomic Weights.
Glossary.
Photo Credits.
Index.
In addition to their textbook, The Sciences, 4e, Trefil and Hazen are the authors of several trade books that promote scientific literacy to a general audience. James Trefil, of George Mason University, is also the science consultant for Smithsonian Magazine and a science commentator on National Public Radio. He has made contributions to research in elementary particle physics, fluid mechanics, medical physics (including cancer research), and the earth sciences. Robert M. Hazen is the Clarence Robinson Professor of Earth Science at George Mason University and Staff Scientist at the Carnegie Institution of Washington Geophysical Laboratory. He performs research on materials at high pressure and is currently studying the hypothesis that life arose in a deep, high-pressure environment.
Physics Matters shows the relevance of physics in understanding our modern technological society - examples include GPS, the World Wide Web, and information technologies. Also highlighted are medical technologies such as MRI, PET scans, CAT scans, and radioisotope tracers, as well as the latest efforts to understand the brain.
Physics Mattersshows the importance of physics in understanding the key technological issues facing society - examples include global warming, nuclear waste, and the ozone hole.