Physics and the Sound of Music, 2nd Edition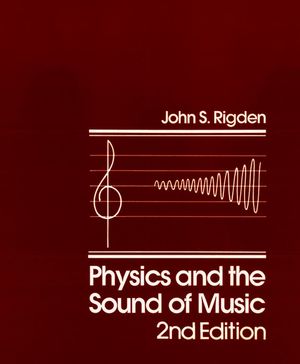 Physics and the Sound of Music, 2nd Edition
ISBN: 978-0-471-87412-6
Jan 1985
368 pages
Description
A clearly written and organized text on the production, propagation, and perception of the sound we call music. Organized into six major parts (each with three chapters) treating the sources of sound and production of musical sound; the propagation of sound and those environmental features that have an immediate influence on the sound that is propagated; and the perceptual aspects of the musical sound. The second edition includes new material on the human voice as a musical instrument, digital recording, and the use of the computer in composing music.
Partial table of contents:

THE SOUND OF MUSIC.

The Physics of Music.

A PURE TONE--A CAPPELLA.

The Origin of Musical Sound.

The Transmission of Musical Sound.

TWO PURE TONES TOGETHER.

The Superposition of Vibrations.

The Superposition of Waves.

ARCHETYPAL INSTRUMENTS: THE TROMBA MARINA, THE FIFE, THE COACH HORN, AND THE DRUM.

The Origin of Complex Tones: Strings, Tubes, and Membranes.

THE WHOLE ORCHESTRA.

The Instruments of Musical Sound.

The Musical Environment.

SOUND REPRODUCTION.

Sound System Components.

ELECTRONIC MUSIC.

Synthesized and Digital Sound.