Physiological Measures of Emotion From a Developmental Perspective: State of the Science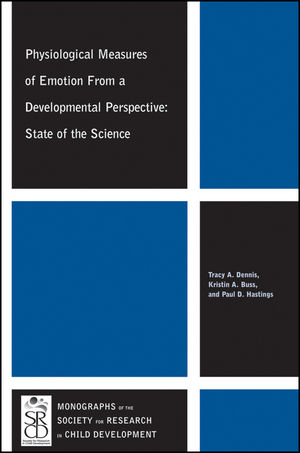 Physiological Measures of Emotion From a Developmental Perspective: State of the Science
ISBN: 978-1-118-45916-4
Jun 2012
216 pages
Description
In the past decade, there has been a dramatic growth in research examining the development of emotion from a physiological perspective. However, this widespread use of physiological measures to study emotional development coexists with relatively few guiding principles, thus reducing opportunities to move the field forward in innovative ways. The goal of this monograph is to present the state of the
science on the physiology of emotion from a developmental perspective in order to take stock of the knowledge base at this historical moment in time and to cultivate greater integration
and coordination in the field as a whole. The authors of the 13 chapters comprising this monograph provide brief and focused essays that emphasize 5 core themes: the time course of emotion, the context of physiological measurement, the nature of developing physiological and behavioral systems,
the specificity of associations between physiological measures and distinct aspects of emotion, and coordination among multiple physiological systems. This monograph has four parts. Part 1 describes integrative measurement approaches to the study of emotion and physiology, including measurement
of multiple biological systems and a focus on individual differences in the links between physiology and emotion. Part 2 emphasizes socialization and contextual and environmental factors that influence the physiology of emotion. Part 3 reviews maladaptive physiological processes that underlie or influence
affective disruptions and affective psychopathology. Part 4 describes overarching issues in the study of physiology and emotional development, articulating measurement guidelines and cutting-edge methods and statistical techniques. The work presented here represents the current state of the field,
as well as exciting new directions that have the potential to revolutionize our understanding of emotional well-being, risk, and psychopathology. Taken together these 13 essays provide an innovative view on the psychophysiology of emotion, emotional well-being, and affective psychopathology from a developmental perspective.
ABSTRACT
INTRODUCTION TO THE MONOGRAPH: PHYSIOLOGICAL MEASURES OF EMOTION FROM A DEVELOPMENTAL PERSPECTIVE: STATE OF THE SCIENCE
INTRODUCTION TO SECTION ONE: INTEGRATIVE APPROACHES TO THE STUDY OF PHYSIOLOGY AND EMOTION
EEG/ERP MEASURES OF EMOTION–COGNITION INTEGRATION DURING DEVELOPMENT
EMOTION–CORTISOL TRANSACTIONS OCCUR OVER MULTIPLE TIME SCALES IN DEVELOPMENT: IMPLICATIONS FOR RESEARCH ON EMOTION AND THE DEVELOPMENT OF EMOTIONAL DISORDERS
NEW DIRECTIONS IN THE STUDY OF INDIVIDUAL DIFFERENCES IN TEMPERAMENT: A BRAIN–BODY APPROACH TO UNDERSTANDING FEARFUL AND FEARLESS CHILDREN
INTRODUCTION TO SECTION TWO: SOCIALIZATION AND ENVIRONMENTAL FACTORS IN THE PHYSIOLOGY OF EMOTION
PARENT–INFANT SYNCHRONY: A BIOBEHAVIORAL MODEL OF MUTUAL INFLUENCES IN THE FORMATION OF AFFILIATIVE BONDS
DOMESTIC VIOLENCE AND EMOTION SOCIALIZATION
THE IMPORTANCE OF BIOLOGICAL METHODS IN LINKING SOCIAL EXPERIENCE WITH SOCIAL AND EMOTIONAL DEVELOPMENT
INTRODUCTION TO SECTION THREE: PHYSIOLOGY AND AFFECTIVE PSYCHOPATHOLOGY
PHYSIOLOGICAL MEASURES OF EMOTION DYSREGULATION: INVESTIGATING THE DEVELOPMENT OF AFFECTIVE DISORDERS
PHYSIOLOGICAL MARKERS OF EMOTION AND BEHAVIOR DYSREGULATION IN EXTERNALIZING PSYCHOPATHOLOGY
NEUROENDOCRINE REGULATION AND EMOTIONAL ADAPTATION IN THE CONTEXT OF CHILD MALTREATMENT
INTRODUCTION TO SECTION FOUR: OVERARCHING ISSUES AND METHODOLOGICAL CONSIDERATIONS: WHAT CAN PHYSIOLOGICAL MEASURES REVEAL ABOUT EMOTION?
MEASURING THE PHYSIOLOGY OF EMOTION AND EMOTION REGULATION—TIMING IS EVERYTHING
THE HYPOTHALAMIC–PITUITARY–ADRENOCORTICAL SYSTEM AND EMOTION: CURRENT WISDOM AND FUTURE DIRECTIONS
DEVELOPMENTAL PSYCHOPHYSIOLOGY OF EMOTION PROCESSES
ASPECTS OF PSYCHOPHYSIOLOGICAL DATA ANALYSIS: EEG COHERENCY AND fMRI CONNECTIVITY MAPPING
REFERENCES
CONTRIBUTORS
STATEMENT OF EDITORIAL POLICY
SUBJECT INDEX