Physiology and Behaviour of Animal Suffering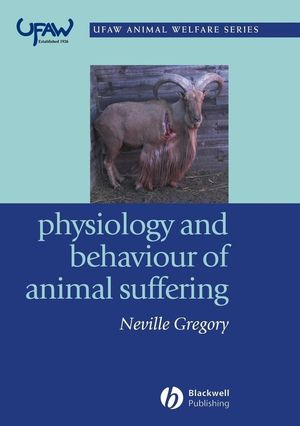 Physiology and Behaviour of Animal Suffering
ISBN: 978-0-632-06468-7 March 2005 Wiley-Blackwell 280 Pages
Description
Suffering is a state of mind that is difficult to measure and analyse in human beings and considerably more so in animals. It is related to the environment in which we live and our physical and mental states. Understanding the physiology of suffering in animals is crucial in assessing animal welfare.
Written by an expert in applied welfare aspects of physiology, this book is the first to address the physiological aspects of suffering in animals. It explores the different causes of suffering – physical discomfort, thirst and hunger, the responses in the body that lead to suffering and it offers insight into how suffering can be managed.


The second book in a major new animal welfare series


Draws together information that is scattered across the literature


Written for the specialist and non-specialist alike


Includes colour pictures
This book is part of the UFAW/Wiley-Blackwell Animal Welfare Book Series.  This major series of books produced in collaboration between UFAW (The Universities Federation for Animal Welfare), and Wiley-Blackwell provides an authoritative source of information on worldwide developments, current thinking and best practice in the field of animal welfare science and technology. For details of all of the titles in the series see www.wiley.com/go/ufaw.
Buy Both and Save 25%!
This item: Physiology and Behaviour of Animal Suffering
Ethics of Animal Use (Paperback $89.50)
Cannot be combined with any other offers.
Original Price:$226.75
Purchased together:$170.06
save $56.69
Table of contents
Foreword.
Preface.
1 Introduction.
1.1 What Is Suffering?.
1.2 Why Worry about Suffering?.
1.3 When Can We Stop Worrying about Suffering?.
1.4 Recognising Suffering in Animals.
1.5 Can Animals Go Mad?.
1.6 What Constitutes Animal Suffering?.
1.7 Conclusions.
2 Stress.
2.1 Stress Physiology.
2.2 Stress-related Disorders.
2.3 Restraint Stress.
2.4 Stress-induced Analgesia.
2.5 Stress-induced Seizures and Fits.
3 Anxiety and Fear.
3.1 Introduction.
3.2 Anxiety.
3.3 Experimental Models.
3.4 Fear.
3.5 Fright.
3.6 Phobias.
3.7 Panic.
3.8 The Role of the Amygdala.
3.9 Losing One's Mother.
4 Emotional Numbness and Deprivation.
4.1 Anhedonia.
4.2 Depression.
4.3 Social isolation in the Newborn.
4.4 Sensory Deprivation in Early Life.
4.5 Sensory Deprivation in Later Life.
4.6 Social isolation and barren environments.
4.7 Stereotypies and neurotic behaviours.
4.8 Learned Helplessness.
4.9 Post-traumatic Stress Disorder.
4.10 Sleep Disorders.
4.11 Weaning.
4.12 Physiology of Emotions.
5 Aggression, Overcrowding and Discomfort.
5.1 Aggression.
5.2 Overcrowding and Confinement.
5.3 Discomfort.
6 Exercise.
6.1 Overexertion.
6.2 Endurance Riding.
6.3 Horse-racing Injuries.
6.4 Greyhound Racing Injuries.
6.5 Migration.
7 Cold.
7.1 Cold Discomfort and Pain.
7.2 Skin Freezing and Chilblains.
7.3 Hypothermia.
7.4 Sensitivity to Cold.
7.5 Hypothermia and Cold Survival.
7.6 Cold in Combination with Starvation.
7.7 Cold-induced Analgesia.
8 Heat and Burns.
8.1 Heat Stress.
8.2 Heat Intolerance.
8.3 Some Species Differences.
8.4 Pain.
8.5 Burns and Scalds.
9 Thirst and Hunger.
9.1 Thirst and Dehydration.
9.2 Overhydration.
9.3 Osmotic Stress.
9.4 Hunger.
9.5 Underfeeding.
9.6 Emaciation.
9.7 Inappropriate Diets.
9.8 Forced Moulting.
9.9 Force-feeding and Overeating.
10 Pain.
10.1 The Value of Pain.
10.2 Pain Associated with Trauma.
10.3 Ways in Which Animals Express Pain.
10.4 Pain Pathways and Consciousness.
10.5 Cortical Regions.
10.6 Applied Neurology of Pain.
10.7 Pain in a Given Context.
11 Trauma.
11.1 Injuries in Selected Body Regions and Tissues.
11.2 Some Common Causes of Injury.
11.3 Intended or Avoidable Causes of Trauma.
11.4 Types of Injury.
12 Sickness and Disease.
12.1 Is Suffering an Inevitable Consequence of Being Ill?.
12.2 Do the Behaviours Expressed During Sickness Serve a Purpose?.
12.3 Cytokines and Sickness Behaviours.
12.4 Cancer.
12.5 Stress and Immune Function.
12.6 Corticosteroid Therapy.
12.7 Anaemia.
12.8 Hazards of Improving Disease Control.
12.9 Diseases Used in Controlling Pests.
13 Digestive System.
13.1 Nausea.
13.2 Vomiting and Retching.
13.3 Gut Pain.
13.4 Diarrhoea.
13.5 Gut Injuries.
13.6 Stress and the Gut.
13.7 Gastro-intestinal Ulcers.
14 Poisoning.
14.1 Wartime Poisons.
14.2 Environmental Toxicants.
14.3 Vertebrate Pesticides.
15 Respiratory System.
15.1 Asphyxia.
15.2 Breathlessness.
15.3 Carbon Dioxide Inhalation.
15.4 Drowning.
15.5 Pulmonary Oedema.
15.6 Hypoxia.
15.7 Altitude Sickness.
15.8 Decompression.
15.9 Collapse of the Lung and Pneumothorax.
15.10 Asthma and Allergies.
15.11 Ammonia.
15.12 Signs of Respiratory Distress.
15.13 Agonal Gasping.
16 Dying.
16.1 Euthanasia.
16.2 Decapitation.
16.3 Religious Slaughter.
16.4 Death from Brain Injury.
16.5 Recognising Insensibility and Brain Death.
References.
Abbreviations.
Index.
Reviews
"The purpose is to bring together knowledge from a variety of scientific fields that should help people arrive at an informed judgment about animal suffering and to recognize when it is present in a given situation in a given animal species. The book does not present moral views but instead attempts to help readers in their thinking rather than telling them what to think. Such an objective is indeed a worthy one for all of us who have animal contact or care about the animal kingdom. This book meets its objectives extremely well, especially its goal of providing an objective reference for recognizing and understanding animal suffering rather than solely relying on subjective criteria." (Mark S. Kuhlenschmidt, BS, MS, PhD, , @Doody's Review Service)
Features


Part of an exciting new UFAW series on Animal Welfare;

The first book to address both the physiological and behavioural aspects of pain;

Explores the different causes of suffering, the responses in the body that lead to suffering, and offers insight into how suffering is managed.