Pierre Bourdieu and Democratic Politics: The Mystery of Ministry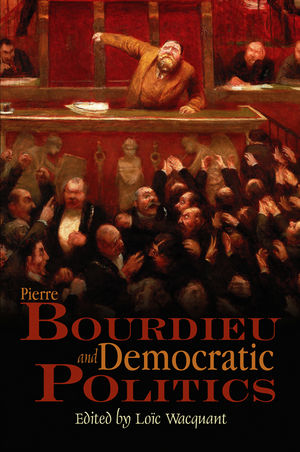 Pierre Bourdieu and Democratic Politics: The Mystery of Ministry
ISBN: 978-0-745-63488-3 June 2005 Polity 224 Pages
Download Product Flyer
Download Product Flyer
Download Product Flyer is to download PDF in new tab. This is a dummy description. Download Product Flyer is to download PDF in new tab. This is a dummy description. Download Product Flyer is to download PDF in new tab. This is a dummy description. Download Product Flyer is to download PDF in new tab. This is a dummy description.
Description
Pierre Bourdieu was a brilliant sociologist and social thinker; he was also an intensely political man whose work is of profound significance for rethinking democracy. This original volume presents and develops Bourdieu's distinctive contribution to the theory and practice of democratic politics. It explicates and illustrates his core concepts of political field and field of power, his historical model of the bureaucratic state, and his influential analyses of the practices and institutions involved in the paradoxical phenomenon of political representation – starting with the enigma of delegation, or what he called the "mystery of ministry."
The fruitfulness of Bourdieu's approach is demonstrated in a series of integrated studies of voting, public opinion polls, party dynamics, class rule, and state-building, as well as by careful analyses of Bourdieu's own civic engagements and his theoretical treatment of the politics of reason and recognition in contemporary society.

Charting the connections between Bourdieu's political views, the main nodes of his sociology of democratic representation, and the implications of this sociology for progressive civic thought and action, this book will be of interest to students and scholars across the gamut of disciplines as well as to citizens concerned with renewing struggles for social justice.
Cannot be combined with any other offers.
Original Price:$54.00
Purchased together:$40.50
save $13.50
Table of contents
Contributors.
Introduction: Symbolic Power and Democratic Practice.
1 Pointers on Pierre Bourdieu and Democratic Politics.
(Loïc Wacquant).
2 From the King's House to the Reason of State: A Model of the Genesis of the Bureaucratic Field.
(Pierre Bourdieu).
3 The Mystery of Ministry: From Particular Wills to the General Will.
(Pierre Bourdieu).
4 Scholarship with Commitment: On the Political Engagements of Pierre Bourdieu.
(Franck Popupeau and Thierry Discepolo).
5 Ancien Régime Ballots: A Double Historicization of Electoral Practices.
(Olivier Christin).
6 Making the People Speak: On the Social Uses of and Reactions to Opinion Polls.
(Patrick Champagne).
7 Symbolic Power in the Rule of the "State Nobility".
(Loïc Wacquant).
8 The Making and Breaking of the Czechoslovak Political Field.
(Gil Eyal).
9 The Cunning of Imperialist Reason.
(Pierre Bourdieu and Loïc Wacquant).
Key Writings of Pierre Bourdieu on Democratic Politics.
Index
Reviews
"Many were surprised during the 1990s by Pierre Bourdieu's increasingly open and direct engagement in democratic politics. The present collection helps to explain the intellectual roots of this engagement – which lie deep in Bourdieu's theory – as well as its significance. Both Bourdieu's contributions to political understanding and this book's contributions to understanding Bourdieu are of enduring value."
Craig Calhoun, Social Science Research Council

"Can Pierre Bourdieu's sociology contribute anything distinctive to our understanding of democratic politics? This scintillating volume answers with a resounding 'yes,' as the contributors tease out the as-yet-unappreciated political implications of the French sociologist's signature concepts."

Nancy Fraser, New School for Social Research
Features


First systematic presentation of Bourdieu's views on democratic politics.

The volume includes two key essays by Bourdieu on the political field and political representation, and a very influential essay by Bourdieu and Wacquant on the dangers of American cultural imperialism in the intellectual world.

The remaining essays demonstrate the richness and fruitfulness of Bourdieu's ideas by analysing voting, public opinion polls, parties and state-building.

Provides a rigorous analysis of Bourdieu's own political engagements and his treatment of the role of reason and recognition in political life.