Pigs at the Trough: Lessons from Australia's Decade of Corporate Greed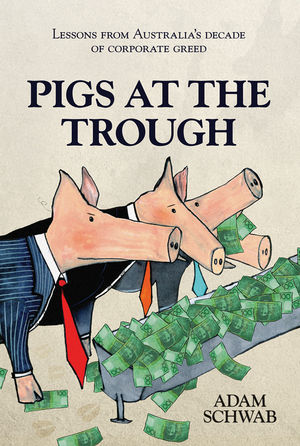 Pigs at the Trough: Lessons from Australia's Decade of Corporate Greed
ISBN: 978-1-742-46932-4 September 2010 Wrightbooks 264 Pages
Description
The past decade has seen a period of unparalleled growth in executive remuneration. But while CEO pay exploded, shareholders looked on helplessly as some of Australia's best-known companies self-destructed. When the fall eventually came, executives were well protected. Shareholders and creditors were not so lucky.

From Telstra's enriching of Sol Trujillo to the toppling of Eddy Groves's ABC Learning Centres and the untold accounts of the billions lost by the collapsed Babcock & Brown, Allco Finance Group and MFS, Pigs at the Trough tells the story of how a generation of executives, under the supervision of well-known and respected non-executive directors, pushed all the boundaries and sometimes sailed right over them ... and got away with it.

A pacey, irreverent read but with a devastatingly serious message, Pigs at the Trough gives investors invaluable insights into how to spot the telltale signs of impending corporate collapse, and how to avoid being another victim.
About the author.
Acknowledgements.
Preface.
1 Telstra.
Dialling up a loser.
2 ABC Learning Centres.
How Australia's richest man under 40 built a childcare empire on foundations of sand.
3 MFS.
How the Gold Coast white shoe brigade got a second chance - and blew it.
4 Village Roadshow.
How the Kirbys became their own leading men.
5 Toll and Asciano.
For whom the cash tolls.
6 Allco.
A fall from grace.
7 Babcock & Brown.
How the house of cards of Australia's financial engineers came crashing down.
8 Timbercorp and Great Southern Plantations.
Australia's rural tax rort comes up a cropper.
Epilogue.
Notes.
Index.