Pilates For Dummies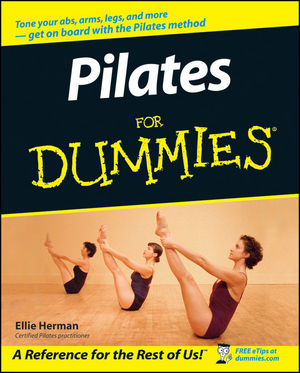 Pilates For Dummies
ISBN: 978-1-118-06967-7 April 2011 368 Pages
Download Product Flyer
Download Product Flyer
Download Product Flyer is to download PDF in new tab. This is a dummy description. Download Product Flyer is to download PDF in new tab. This is a dummy description. Download Product Flyer is to download PDF in new tab. This is a dummy description. Download Product Flyer is to download PDF in new tab. This is a dummy description.
Description
Once the secret fitness weapon of professional dancers, athletes, and movie stars, Pilates is sweeping the country with a vengeance. And if even half of what its many fans claim is true, then it's easy to see why. Combining elements of yoga, dance, gymnastics, and boxing, along with many original movements, Pilates exercises build muscle tone, improve flexibility and balance, lengthen the spine, increase body awareness, and repair past injuries. Most people who've done it, even for a short time, say they feel stronger and more energized, centered and physically confident than ever before. They also like having the flat tummies, tight buns, and long lean thighs of a dancer.
Pilates For Dummies lets you get on board with the Pilates method , without the high cost of private instruction. Packed with step-by-step exercises, photos, and illustrations, it helps you develop your own Pilates fitness program to do at home or in the gym. Top Pilates trainer Ellie Herman shows you how to use eight basic Pi lates principles to get the most out of your mat-based routines and:
Look and feel better than ever
Get stronger, more flexible, in control and less prone to injury
Target and tone problem areas
Get movie star abs, buns, thighs and arms
Repair chronic stress and sports injuries
Calmly, clearly, and with quirky good humor, Ellie explores the origins and basic philosophy of the Pilates method, and helps you set realistic fitness goals and custom-tailor a program. She also covers:
Basic, intermediate , and advanced mat exercises
Using Pilates exercise equipment and accessories
Targeting specific areas including the stomach, back, thighs, and chest
Pilates for the pregnant and recently pregnant body
Using Pilates to heal injuries, reform posture
Ten simple ways to incorporate Pilates into your everyday life
Combining Pilates with other forms of exercise, including yoga, swimming, aerobics, and more
Why let the rich and famous have all the fun? Your complete, friendly, step-by-step guide, Pilates For Dummies shows how Pilates can offer a fitness program for the rest of us.
Table of contents
Introduction.

Part I: Pilates Basics.

Chapter 1: A Pilates Primer.

Chapter 2: Get Ready, Get Set.

Chapter 3: Getting on a Mat and Learning the Pilates Alphabet.

Part II: Mat Exercises.

Chapter 4: Pre-Pilates: The Fundamentals.

Chapter 5: Now That You've Got the Basics Down: The Beginning Mat Series.

Chapter 6: Feeling Stronger Every Day: Intermediate Mat Exercises.

Chapter 7: More Than a Washboard: The Advanced Mat Series.

Chapter 8: Maybe Someday . . . Super Advanced Exercises.

Chapter 9: Extra Help for the Butt and Thighs.

Chapter 10: Meow! Stretching the Spine.

Part III: Beyond the Mat: Exercises Using Equipment and Accessories.

Chapter 11: Plastic Foam Never Felt So Good: The Roller.

Chapter 12: Abracadabra! The Magic Circle or a Small Ball.

Chapter 13: Size Does Matter: Exercises on the Big Ball.

Chapter 14: Hitting the Wall for a Pilates Cool-Down.

Chapter 15: Springs Are Busting Out All Over: An Overview of Pilates Equipment.

Part IV: Special Situations.

Chapter 16: Pilates for the Pregnant and Recently Pregnant.

Chapter 17: Special Routines for Special Situations.

Part V: The Part of Tens.

Chapter 18: The Ten Most Important Exercises.

Chapter 19: Ten Changes You Can Expect to See from Pilates.

Chapter 20: Ten Simple Ways to Incorporate Pilates into Your Everyday Life.

Chapter 21: Ten Questions to Ask When Choosing a Studio or Instructor.

Chapter 22: Ten Ways to Complement Your Pilates Workout.

Index.