Piloting Palm: The Inside Story of Palm, Handspring, and the Birth of the Billion-Dollar Handheld Industry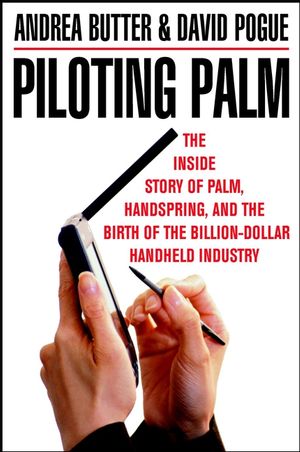 Piloting Palm: The Inside Story of Palm, Handspring, and the Birth of the Billion-Dollar Handheld Industry
ISBN: 978-0-471-22339-9
Feb 2002
368 pages
Product not available for purchase
Description
The definitive behind-the-scenes story of the visionary team that launched the handheld industry.

Palm insider Andrea Butter and New York Times columnist David Pogue -- with full, exclusive cooperation of the company's founders and more than fifty key Palm and Handspring executives -- tell the riveting tale of the start of an industry constantly in the headlines. The origins of this volatile industry began with the tiny team who beat staggering odds to turn the PalmPilot into a billion-dollar market and later took their ultimate vision to Handspring, now Palm's most powerful rival.

Many of today's current events relating to the competition in this industry are forecasted in this important business drama. The authors take an unprecedented look at how the visionary founders of the industry led one of the most successful startups in history to succeed against all odds-including a shoestring budget, shortsighted corporate partners, and competition from Microsoft. The roller-coaster ride is full of insight into the bungles of venture capitalists, the allure and pitfalls of partnerships with giant corporations, and the steely determination needed to maintain entrepreneurial and visionary independence. With gripping accounts of the last-minute crises that almost torpedoed the PalmPilot on the eve of its unveiling, and the triumphant, unprecedented reception of Palm in the marketplace, as well as the glimpses into the future of this industry, this book is as entertaining as it is instructional. Key revelations include:

* The principles of business, economy, and product design that led Palm to succeed where billion-dollar corporations like Apple, Motorola, and Casio had failed.
* Important moments in technological development of the handheld such as the secret "Easter egg," a software surprise planted in the Palm software that nearly sank launch plans.
* Unique insight into the showdown with Microsoft, and 3Com's tragic decision not to make Palm independent that led Palm's founder Jeff Hanwkins and CEO Donna Dubinsky to take their vision elsewhere.
* The ongoing competition between Palm and Handspring. The new rivals to contend with including Sony.
Acknowledgments.

Note to the Reader.

Prologue.

Chapter 1: In the Valley of Dreams.

Chapter 2: Palm Computing.

Chapter 3: Donna.

Chapter 4: Zoomer.

Chapter 5: The Writing on the Wall.

Chapter 6: The Zen of Palm.

Chapter 7: Crossing the Desert.

Chapter 8: U.S. Robotics.

Chapter 9: The Shortest Honeymoon.

Chapter 10: Selling the Pilot.

Chapter 11: The Eleventh Hour.

Chapter 12: Inside the Tornado.

Chapter 13: Microsoft 1.0.

Chapter 14: Swallowed Whole.

Chapter 15: Omens.

Chapter 16: Microsoft 2.0.

Chapter 17: The Fight for Independence.

Chapter 18: Once Again, with Money.

Chapter 19: Sea Change.

Chapter 20: Revolving Doors.

Chapter 21: Zero to Sixty.

Chapter 22: IPO.

Chapter 23: Millennium.

Chapter 24: Uncharted Waters.

Epilogue.

Notes.

Index.
"The story of the two companies [Palm and Handspring] is well told.... If you like Silicon Valley start-up tales or Palm hand-helds (and I must admit I am addicted to both) you will enjoy this lively account." (Financial Times, January 31, 2001)

"The authors give detailed portraits of both high-tech product launches and investment banking negotiations without once getting bogged down in the jargon of either world. No doubt readers can thank coauthor Pogue, a New York Times columnist, for the smooth, lucid prose." (Publishers Weekly, February 11, 2002)

"It is told well, by Andrea Butter, Palm's former vice-president for marketing, and tech journalist David Pogue. Much of the tale is well-known to followers of the industry, but Pogue and Butter add welcome detail." (Business Week, March 11, 2002)

"Since Americans love gadgets, they should be interested in this book, which chronicles how Jeff Hawkins had an inspiration that led to the handheld industry, the greatest gadget creator of them all. Former Palm Computing executive Butter and New York Times technology consultant Pogue recount how Hawkins and a few others started Palm Computing, surviving crisis after crisis until it was eventually sold to another company and ultimately spun off in an IPO-but not before Hawkins and several of his followers had left to start another handheld company called Handspring. Along the way, we learn that Silicon Valley start-ups are at the mercy of venture capitalists, that the launching of new products is fraught with peril, and that small-tech companies can occasionally compete successfully with larger companies (e.g., Microsoft). But, more tellingly, the authors calculate the human cost of sacrificing one's life in order to realize a dream. There's plenty of drama here, and, given the expertise of the authors, one would have expected a gripping read rather than simply a connecting of the dots. Not so, unfortunately; the book suffers from workmanlike writing. Handheld organizers are here to stay, but their real story remains to be told. For larger business collections only. --Richard Drezen, Washington Post News Research, New York (Library Journal, March 15)"

"...entertaining and readable. I'd recommend it to not only fellow Palm enthusiasts, but to anyone who's interested in either Silicon Valley specifically or business start-up's in general." (Supply Management, 14 March 2002)

"...rather excellent book...a great book..." (M2 Communications, 26 April 2002)