Pinterest Marketing For Dummies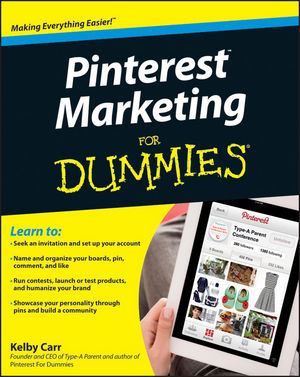 Pinterest Marketing For Dummies
ISBN: 978-1-118-38315-5
Jul 2012
216 pages
Description
Tap into the marketing power of Pinterest
People are using Pinterest to organize their digital lives. This hot social site lets users create visual bookmarks of their favorite things and 'pin' them on virtual pinboards. Now you can learn how to market on Pinterest with this hands-on guide. You'll discover how to launch new products, showcase your brand's personality, seek product approval, run innovative contests, and engage your community in a way that is difficult to replicate on other social networks.
Helps you get the most out of marketing on Pinterest, a visual collection of bookmarks that you can organize into virtual pinboards
Shows you how to set up an account and boards, how to pin and re-pin, use hashtags and like pins, and integrate your Pinterest activity with your other social networks
Reveals how to run contests on Pinterest
Gives the lowdown on launching new products
Includes tips and techniques for building a community on Pinterest
Market with Pinterest, it's fun and easy, and even more so with Pinterest Marketing for Dummies.
Introduction 1
Chapter 1: Understanding Why You Need a Pinterest Presence 5
Chapter 2: Setting Up a Pinterest Account 17
Chapter 3: Following People on Pinterest 37
Chapter 4: Creating Boards and Pins 59
Chapter 5: Pinning and Repinning 79
Chapter 6: Getting Active on Pinterest 95
Chapter 7: Getting Fans, Customers, and Clients to Follow You 105
Chapter 8: Engaging on Pinterest 123
Chapter 9: Creating Pin-Worthy Content 133
Chapter 10: Generating Buzz on Pinterest 153
Chapter 11: Tracking Pinterest Metrics 163
Chapter 12: Ten Pins That Went Viral 173
Index 183
Updates
Please check back here for updates.