Pioneers of Psychology: a History, 4th Edition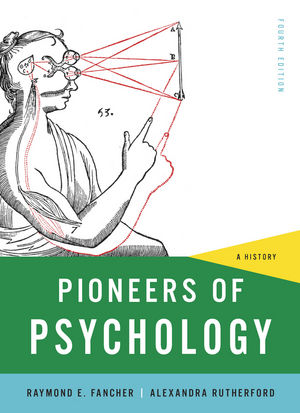 Pioneers of Psychology: a History, 4th Edition
ISBN: 978-0-393-93530-1
691 pages
Product not available for purchase
Description
Brings the history of psychology to life.



Pioneers of Psychology tells the stories of the men and women who have shaped our understanding of what it means to be human over the past 400 years. Written by professional historians of psychology and drawing on the most up-to-date historical scholarship, Pioneers of Psychology illuminates the major themes and controversies in psychology's history through carefully crafted stories of real people, their personal journeys, and their intellectual insights.
A biographical approach
Pioneers of Psychology highlights the stories of individual scholars and scientists as they developed their ideas in the context of their lives and times. These fascinating accounts let students "stand in the shoes" of these influential thinkers as they were formulating the ideas that led to their major contributions. This approach helps make the concepts and theories the pioneers developed both lively and memorable.
Demonstrates the relevance of history to contemporary psychology
The authors consistently show how history has informed and influenced the subfields of contemporary psychology. For example, Chapter 3 shows how contemporary questions in neuroscience can be traced back 200 years to controversies regarding the localization of functions within the brain. Chapter 6 shows how today's evolutionary psychologists still debate issues raised by Charles Darwin more than 150 years ago. And several chapters highlight the continuing relevance of fundamental questions about body and mind that were posed by Descartes nearly four centuries ago.
Expanded treatment of social, personality, cognitive, and applied psychology
The Fourth Edition features two completely new chapters, one covering the emergence of personality psychology and humanistic psychology (Chapter 12), and another on applied psychology (Chapter 15). The chapters on social psychology (Chapter 10) and cognitive psychology (Chapter 14) have also been significantly expanded.
Enhanced coverage of women and gender issues
This new edition offers significant coverage of women pioneers and gender issues, including topics such as the important intellectual friendships with prominent women that shaped the thinking of René Descartes and Gottfried Leibniz, Bärbel Inhelder's collaboration with Jean Piaget and her contributions to our understanding of cognitive development, and Lillian Moller Gilbreth's pioneering accomplishments in industrial/organizational psychology.
Redesigned teaching aids
Every chapter includes tools to guide and support students, such as chapter outlines, summaries, discussion questions, suggested readings, and lists of key terms. Ancillary resources have also been prepared for teachers, including a 450-item multiple-choice testbank, PowerPoint slides for each of the chapters, and the collective artwork for the book.