Place, Space and the New Labour Internationalisms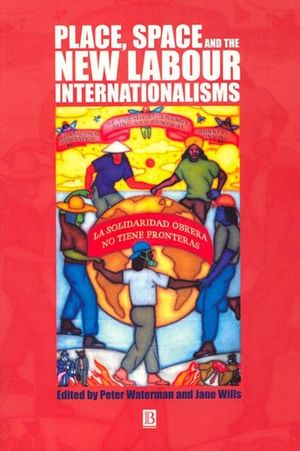 Place, Space and the New Labour Internationalisms
ISBN: 978-1-444-39752-9 May 2012 Wiley-Blackwell 312 Pages
Description
New interest in labour and union internationalism has developed over the last 10-15 years. This collection, co-edited by scholars from an older and younger generation, is a very original attempt to grapple with the challenges of globalisation for labor. The collection includes contributions from academics and activists based in the North and South.
Place, Space and the New Labour Internationalisms.
Introduction: Place, Space and the New Labour Internationalisms: Beyond the Fragments? Peter Waterman and Jane Wills.
1. New Developments in Trade Union Internationalism:.
Trade Union Internationalism in the Age of Seattle: Peter Waterman.
Southern Unionism and the New Labour Internationalism: Rob Lambert and Eddie Webster.
Rethinking the International Confederation of Free Trade Unions and its Inter-American Regional Organization: Kjeld Jakobsen.
Transnational Capital, Urban Globalisation and Cross-Border Solidarity: The Case of the South African Municipal Workers: Franco Barchiesi.
Labor Internationalism and the Contradictions of Globalization: Or, Why the Local is Sometimes Still Important in a Global Economy: Andrew Herod.
2. New Issues for Labour Internationalism:.
World Trade and Worker's Rights: In Search of an Internationalist Position: Rohini Hensman.
NAFTA's Labor Side Agreement and International Labor Solidarity: Lance Compa.
European Integration and Industrial Relations: A Case of Variable Geometry? Richard Hyman.
Uneven Geographies of Capital and Labour: The Lessons of European Works Councils: Jane Wills.
Women Workers and the Promise of Ethical Trade in the Globalised Garment Industry: A Serious Beginning? Angela Hale and Linda Shaw.
Propositions on Trade Unions and Informal Employment in Times of Globalisation, Dan Gallin.
A Manifesto Against Femicide: Melissa Wright.
Union Responses to Mass Immigration: The Case of Miami, USA: Bruce Nissen and Guillermo Grenier.
Index.
It's a post-Seattle world out there, and long-familiar geographical notions are reeling not only under the impact of capitalist globalization, but of myriad new linkages among globally-connected working people and communities. For cutting edge views of what all this means for the labor movement, read Place, Space and the New Labour Internationalisms. –
Jeremy Brecher
co-author of Globalisation from Below: The Power of Solidarity (Southend Press, Boston)
This is the first major interpretation of the future of labour internationalism in the wake of the Seattle protests. Waterman and Wills are to be congratulated for producing stimulating, original and forward-looking account. – Robin Cohen, Dean of Humanities, University of Cape Town

For those who wish to understand the potential strength and perils of labor in the neoliberal globalized world, Place, Space and the New Labour Internationalisms is essential reading. Waterman and Wills review and anticipate key battles that the labor movement will ineluctably face as corporate domination is challenged by the world-side movement for social justice. – Immanuel Ness, editor of WorkingUSA: The Journal of Labor and Society


Includes chapters from leading labor activists including Kjeld Jacobsen, International Secretary of the largest Brazilian trade union federation (the CUT) and Dan Gallin, Chair of the Global Labour Institute, Geneva.

Focuses on the interconnections between labor internationalism and the environment, women and race in North and South America, Europe, Asia-Pacific and South Africa.

Provides an up-to-date review of the academic literature on labor internationalism while exploring contemporary examples of worker's organisation.