Plain Talk: Lessons from a Business Maverick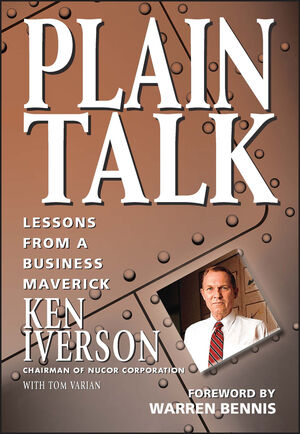 Plain Talk: Lessons from a Business Maverick
ISBN: 978-0-471-15514-0 October 1997 208 Pages
Description
A visionary, maverick, and genuine American business hero, Ken Iverson is one of the most closely-watched business leaders in the world. Credited with single-handedly rejuvenating the rapidly declining American steel industry to the status of world-class producer, Iverson is one of the most successful and, as he likes to point out, one of the lowest-paid CEOs in the U.S. In his long-awaited book, Ken Iverson shares his ideas, observations, and the lessons he's learned about what it takes to grow a super-competitive, world-class organization.
A Higher Cause.

Trust Your Instincts.

Destroy the Hierarchy.

The Engines of Progress.

A Simple Stake in the Business.

The Virtues of Smallness.

Risks and Adventures.

Ethics over Politics.

The Bottom Line.

The Cure for the Common MBA.

Notes.

Index.
"Ken Iverson is a leader whose vision shaped an industry and the future, a leader whose character, values, and ethics merge seamlessly with the mission and values of a successful, innovative business." -Frances Hesselbein, President and CEO, The Peter F. Drucker Foundation

Ken Iverson taught us that America could compete in a tough global economy. He did it in an industry where being a maverick was the only way. His accounting of Nucor's story should serve as a blue print or us all. -David Glass, President and CEO, WalMart Stores, Inc.

No theory; just important, practical ideas proven by Ken Iverson in the furnace at Nucor.-Peter Larson, Chairman and CEO, Brunswick Corporation

It is a masterpiece! Plain Talk provides a penetrating analysis of why Nucor has performed so well for so long, full of insights and solid conclusions. The book is easy to follow, very well written, and a 'must' read for every executive...a major contribution to business. -Vijay Govindarajan, Earl C. Dum 1924 Professor of International Business, Amos Tuck School of Business Administration, DartmouthCollege

This is a story about Ken Iverson, a man who built a major steel company from ground zero, much of it during a period when the U.S. steel industry was losing 25% of its capacity. But most of all, it's about motivating people to a level of remarkable accomplishment. You will enjoy reading this book as much as the people who work for Nucor enjoy being there.-James F. Collins, President, Steel Manufacturers Association