Plan Graphics, 5th Edition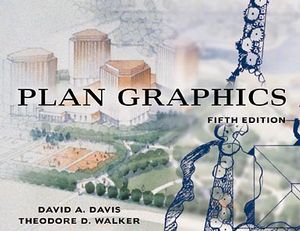 Plan Graphics, 5th Edition
ISBN: 978-0-471-29221-0
Sep 1999
224 pages
Description
The classic text on the art and science of graphic communication in landscape architecture-now updated with all-new graphic examples of professional design work. To a great extent, your success as a landscape architect will depend upon the quality of the drawings and renderings you use to communicate your ideas at each stage of the design process. The purpose of this book is to show you examples of how to create persuasive presentation graphics that convey design ideas with clarity, precision, and grace to your intended audience. With the help of a comprehensive collection of contemporary design work, the authors acquaint you with the best traditional graphic presentation methods, as well as innovative new approaches used at some of today's leading landscape architecture firms. This new edition features:
* Graphic communication methods for all phases of the design process.
* Hand-rendering and computer-generated techniques.
* Coverage of lettering, color graphics, site analysis, conceptual drawings, construction documents, and finished renderings, sections, and elevations.
* More than 275 all-new graphics examples.
* A 48-page, full-color graphics gallery.
* Contributions from nearly 50 respected firms, including Altoon + Porter, Christy TenEyck, Design Workshop, EDSA, EDAW, Lehman Smith Wiseman, and Mesa Design Group.

The updated and expanded version of the book that has trained generations of landscape architects in effective graphic communication techniques, Plan Graphics, Fifth Edition is essential reading for landscape architecture students and entry-level landscape architects. It is also a valuable working resource for landscape architects, architects, planners, civil engineers, and landscape contractors.
Plan Graphics and the Creative Process.

Color Graphics.

Site Analysis.

Conceptual Design.

Construction Documents.

Finished Renderings, Sections, and Elevations.

Index.
Fully updated revision of the classic text which provides students with exposure to the finest forms of graphic communication. New methods, new media, and more cutting-edge designs that have changed the ways designers create plan graphics have been incorporated into this revision.
Includes over 275 graphic examples of professional landscape plans that are exemplary for their graphic elements, over 20% more than the previous edition.
Every single plan is new to this edition.
Includes an additional 16 pages of full color plan graphics for a total of 48 full color pages.
Real-world orientation. Includes contributions from over 45 respected landscape architecture firms and designers, including EDAW, Sasaki, Christy TenEyck and ADP/Fluor Daniel.
Covers both hand-rendered and computer-generated plan graphics.
Includes coverage of lettering, color graphics, site analysis plans, conceptual designs, construction documents, and finished renderings, sections, and elevation.
Most up-to-date and relevant text on the market to focus solely on plan graphics.