Plan Reading and Material Takeoff: Builder's Essentials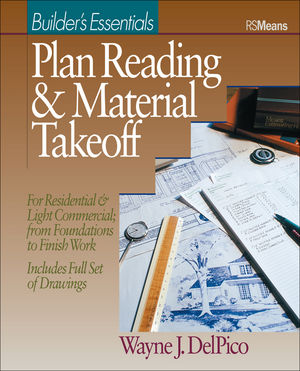 Plan Reading and Material Takeoff: Builder's Essentials
ISBN: 978-0-876-29348-5 February 2015 448 Pages
Description
A Complete Resource for Residential and Light Commercial Contractors -- based on the latest construction materials and methods.
Learn how to:
read and interpret building plans
create an accurate takeoff, using a complete set of working drawings.
Each chapter covers a major construction division, such as concrete, masonry and carpentry -- and uses plans, details and tables to illustrate plan reading and takeoff procedures. A checklist for each material division helps ensure that nothing is left out of your takeoff.
Includes a complete set of residential plans from Home Planners, Inc., the nation's leading provider of home plans. With a detailed material takeoff, from site work to electrical.
With over 160 illustrations, including commercial construction details.
Table of contents
Foreword.
Introduction.
Chapter One: Reading and Understanding Plans.
Chapter Two: Calculating Area and Volume.
Chapter Three: The Specifications.
Chapter Four: General Requirements (Division 1).
Chapter Five: Site Work (Division 2).
Chapter Six: Concrete (Division 3).
Chapter Seven: Masonry (Division 4).
Chapter Eight: Metals (Division 5).
Chapter Nine: Wood and Plastics (Division 6).
Chapter Ten: Thermal and Moisture Protection (Division 7).
Chapter Eleven: Doors and Windows (Division 8).
Chapter Twelve: Finishes (Division 9).
Chapter Thirteen: Specialties (Division 10).
Chapter Fourteen: Equipment (Division 11).
Chapter Fifteen: Furnishings (Division 12).
Chapter Sixteen: Special Construction (Division 13).
Chapter Seventeen: Conveying Systems (Division 14).
Chapter Eighteen: Mechanical (Division 15).
Chapter Nineteen: Electrical (Division 16).
Appendix.
Abbreviations.
Bibliography.
Index.