Planetary Gentrification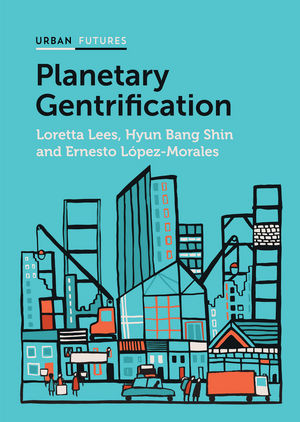 Planetary Gentrification
ISBN: 978-1-509-50590-6 March 2016 Polity 248 Pages
Download Product Flyer
Download Product Flyer
Download Product Flyer is to download PDF in new tab. This is a dummy description. Download Product Flyer is to download PDF in new tab. This is a dummy description. Download Product Flyer is to download PDF in new tab. This is a dummy description. Download Product Flyer is to download PDF in new tab. This is a dummy description.
Description
This is the first book in Polity's new 'Urban Futures' series.

At the beginning of the twenty-first century, proclamations rang out that gentrification had gone global. But what do we mean by 'gentrification' today? How can we compare 'gentrification' in New York and London with that in Shanghai, Johannesburg, Mumbai and Rio de Janeiro? This book argues that gentrification is one of the most significant and socially unjust processes affecting cities worldwide today, and one that demands renewed critical assessment.

Drawing on the 'new' comparative urbanism and writings on planetary urbanization, the authors undertake a much-needed transurban analysis underpinned by a critical political economy approach. Looking beyond the usual gentrification suspects in Europe and North America to non-Western cases, from slum gentrification to mega-displacement, they show that gentrification has unfolded at a planetary scale, but it has not assumed a North to South or West to East trajectory – the story is much more complex than that.
 
Rich with empirical detail, yet wide-ranging, Planetary Gentrification unhinges, unsettles and provincializes Western notions of urban development. It will be invaluable to students and scholars interested in the future of cities and the production of a truly global urban studies, and equally importantly to all those committed to social justice in cities.
Table of contents
1. Introduction
2. New Urbanizations
3. New Economics
4. Global Gentrifiers: Class, Capital, State
5. A Global Gentrification Blueprint?
6. Slum Gentrification
7. Mega-Gentrification and Displacement
8. Conclusion

References
Reviews
"This is an exciting and illuminating documentation of the ideologies and practices of gentrification in different parts of the globalizing world. Theoretically inspirational and empirically comprehensive, this book provides an excellent role model to show how critical comparative studies can be done for fruitful knowledge production. It makes a timely contribution that will be highly appreciated by all from the global North and South, East and West."
George C. S. Lin, Hong Kong University
"The authors are leading urban scholars from three continents, who advance the thesis of global gentrification and its attendant injustices through the informative lens of comparative urbanism. In doing so, they critically engage with 'both academic globalization and the globalization of capital'."
David Ley, University of British Columbia
"This book profoundly extends the scope of gentrification from its London-based origins to a globalizing urban world. Using a comparative perspective, the authors examine urban restructuring and displacement not as the spread of Western social-spatial forms, but as a process of planetary globalization. This book is the most lucid, nuanced and theoretically coherent treatment of gentrification and its manifestation to date."
Fulong Wu, University College London


"The stellar achievement of this book is its success in making sense of a planetary mélange of contemporary case studies of urban growth and development. The three coauthors bring perspectives steeped in Anglo American, Asian, and Hispanic cultural identities, yielding a densely textured portrayal of the sociopolitical dimensions of land development."
Journal of Urban Affairs

"[The authors] unlearn existing conceptualizations/theories, ideologies and practices/policies around gentrification, and question how experience from around the globe may enrich gentrification theory and concepts […]. Overall, they argue that the study of gentrification can help us to understand the complexity of urbanization processes […and] that the differences they identify are not radical enough to warrant dilution or dismissal of the term."
Environment and Urbanization

"[The authors] not only provide the reader with significant material that should start new and stimulating discussions in gentrification studies, but also challenge the way of understanding and investigating processes of gentrification. This book proves itself to be an important addition to further gentrification theory and an answer for the long-due desire to expand gentrification to the cities of the Global South."
Urban Geography