Planners on Planning: Leading Planners Offer Real-Life Lessons on What Works, What Doesn't, and Why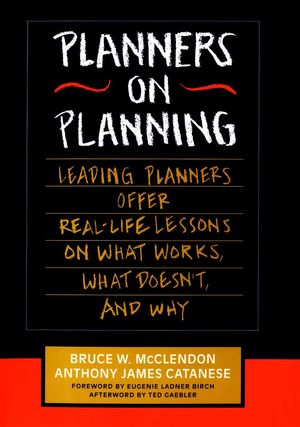 Planners on Planning: Leading Planners Offer Real-Life Lessons on What Works, What Doesn't, and Why
ISBN: 978-0-787-90285-8 August 1996 Jossey-Bass 320 Pages
Description
Offers pragmatic information on the realities of day-to-day practice from some of the most innovative, respected, and visionary leaders in the planning profession today. Bridging the gap between theory and practice, this guide provides straightforward lessons from today's most effective planners on the core values, skills, and techniques needed for success. Through personal, real-life examples from the trenches, these experts explain in their own words what works, what doesn't, and why.
LESSONS ON PERSONAL SUCCESS.

1. Pursuing Effectiveness and Personal Success in the Next Era (Norman Whitaker).

2. How to Become a Successful Planner (Sergio Rodriguez).

3. The Ten Habits of Highly Effective Planners (Richard C. Bernhardt).

4. Five Commitments That Can Make a Difference (Paul A. Bergman).

5. What They Don't Teach You in School (Jim Reid).

6. Thirty How-To's for Success (Paul C. Zucker).

7. Organizing and Managing for Success (Keith L. Cubic).

LESSONS ON POLITICS.

8. Guidelines for Survival and Success (Linda L. Davis).

9. The Principles of Community Alignment and Empowerment (Gene Boles).

10. Making a Difference with Equity Planning (Norman Krumholz).

11. A New Vision on Collaborative Public Service (Elizabeth L. Hollander).

LESSONS ON EFFECTIVENESS.

12. Core Values and Principles for Effective Planning (Robert W. Becker).

13. Visioning for Tangible Results (John A. Lewis).

14. The Five Principles of Effective Practice in a Participatory Democracy (V. Gail Easely).

15. Tooling Up for Effective Planning (Angela N. Harper).

16. It Seemed Lie a Good Idea at the Time (Marjorie W. Macris).

LESSONS ON CUSTOMERS.

17. Gaining Credibility and Trust Through Teaching, Patience, and Timing (Robert W. Marriott Jr.).

18. The Six Operating Principles of Effective Customer Service (Bruce W. McClendon).

19. Helping Customers Solve Their Problems (Ray Quay).

20. The Planner as Entrepreneur (Floyd Lapp).

21. Attitude, Professionalism, and Opportunity (William W. Bowdy).

22. Understanding and Improving the Management of Planning Agencies (Stuart Meck).

Conclusion: Lessons Learned.

Afterword (Ted Gaebler).
"One of planning's foremost academic leaders and one of its leading practitioners have joined forces to produce an unprecedented book that bridges the gap between planning theory and planning practice." (Eric Damian Kelly, president, American Planning Association; and dean, College of architecture and Planning, Ball State University)

"This insightful book delivers practical advice and guidance based on the real-life experiences of some of this country's best planners." (Frank So, executive director, American Planning Association)

"One day with this practical, hands-on guide to successful practice can save you years of trial and error." (Ted Gaebler, coauthor of Reinventing Government)

"Take some time off and read this book before you go back to work. It's that good!" (Jim Duncan, former president, American Planning Association)