Planning Gain: Providing Infrastructure and Affordable Housing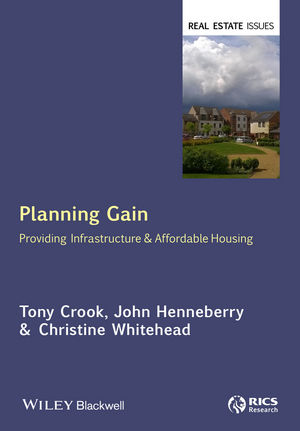 Planning Gain: Providing Infrastructure and Affordable Housing
ISBN: 978-1-119-07511-0
Nov 2015
328 pages
Description
Winner of the Royal Town Planning Institute award for research excellence

This critical examination of the development and implementation of planning gain is timely given recent changes to the economic and policy environment.

The book looks both at the British context as well as experience in other developed economies and takes stock of how the policy has evolved. It examines the rationale for planning gain, how it has delivered substantial funds for infrastructure and affordable housing and, in the light of this, how it might continue to play a role in the funding of these. It also draws on overseas experience, for example on impact fees and public sector land assembly. It looks at lessons from the past for future policy, both for Britain and for countries overseas.
Mechanisms to tap development value are also a global phenomenon in developed market economies - whether through formal taxation or negotiated contributions. As fiscal austerity becomes an increasingly challenging issue, 'planning gain' has grown in importance as a potential source of funding for infrastructure and new affordable housing, with many countries keen to examine, learn from, and adapt the experience of others.
a critical commentary of planning gain as a policy
timely post credit crunch analysis
addresses recent planning policy changes
Acknowledgements xiii
Foreword by Dame Kate Barker xv
Preface xvii
Notes on Contributors xxi
1 Introduction 1
Tony Crook, John Henneberry and Christine Whitehead
Purpose of the book 1
The development process and the creation of development value 2
The taxation of development value 4
Factors affecting effective development value capture 6
Property rights and ownership 7
The need for finance 8
The ownership of development rights 9
Taxing value or raising charges 9
Rules versus discretion? 9
Fixed taxes, tariffs and negotiated contributions 10
Hypothecation and contract 11
Key factors behind the development of planning gain policy in England 11
Political economy 12
The planning system 12
Central–local relations: Local discretion, innovation and adoption 14
Definitions 15
The structure of the book 16
2 The Economics of Development Value and Planning Gain 20
Christine Whitehead
Introduction 20
Why is land and its value special? 21
The potential to tax increasing land values without generating inefficiency 22
The impact of planning on development values – the creation of planning gain 25
How are these values achieved? 25
Planning affects land supply 26
Planning affects demand 27
Planning affects density of construction and use 28
Planning affects prices and quantities 29
Bringing together the possibilities 29
Instruments available to capture planning gain 32
Overview 34
3 Capturing Development Value Through de jure National Taxation: The English Experience 37
Tony Crook
Introduction 37
Betterment and development value defined 39
Compensation and betterment: the Uthwatt principles 43
Taxing development value: post-war national schemes 46
1947: The development charge and the central land tribunal 48
1967: Betterment levy and land commission 51
1974, 1975 and 1976: Development Gains Tax, the Community Land Scheme and Development Land Tax 54
Lessons learned 59
4 Planning Obligations Policy in England: de facto Taxation of Development Value 63
Tony Crook
Introduction 63
Planning obligations: the key principles 65
Using planning obligations to secure land and funding for affordable housing 74
The overall framework 74
Detailed requirements 79
Recent policy initiatives 83
Tariffs 85
Optional planning charge 86
Planning gain supplement 88
Community infrastructure levy 93
Changes to CIL and new LPA incentives 97
Viability and S106 99
CIL policy: concluding comments 100
Conclusions 101
5 Development Viability 115
John Henneberry
Introduction 115
Development viability 117
Threshold land value 120
Table of Contents ix
Development appraisal 121
Property development within the wider property market 121
Development appraisal 123
Estimating the residual value of a residential development site 124
Assessing the impact of planning obligations and developer's contributions on the viability of development proposals 130
Accounting for spatial and temporal variations in the development market 133
Conclusion: addressing the viability dilemma? 136
6 The Incidence and Value of Planning Obligations 140
Steven Rowley and Tony Crook
Introduction 140
The growth of obligations 140
Methods for measuring the incidence and calculating the value of planning obligations in England 145
The number of obligations in England 151
Affordable housing obligations in England 155
The total value of planning obligations agreed in England 160
Planning obligations in Scotland and Wales 162
Rural exceptions schemes 163
Who pays for the obligations? 164
Conclusions 171
7 Spatial Variation in the Incidence and Value of Planning Obligations 175
Richard Dunning, Ed Ferrari, and Craig Watkins
Introduction 175
Defining and disseminating good practice in planning obligations 177
Review of earlier evidence 177
Good practice research and advice 178
Implications of evidence and good practice guides 184
A note on Scotland and Wales 185
Regional variations in the value of planning obligations 185
Quantitative analysis of the drivers of the incidence and value of planning obligations 187
Qualitative explanations for spatial variations in planning obligations 192
The changing practice context 192
Stretching the 'rational nexus' 195
Delivery 196
Conclusions 197
8 Delivering Planning Obligations – Are Agreements Successfully Delivered? 201
Gemma Burgess and Sarah Monk
Introduction 201
Why consider delivery of planning obligations? 202
Types of planning obligations 203
Case-study evidence of successful delivery of planning obligations 204
Quantitative evidence on the delivery of obligations 207
The factors affecting the delivery of affordable housing obligations 210
Trends in the delivery of affordable housing 211
The impact of the economic downturn on delivery 216
Implementing the community infrastructure levy 220
Conclusions 224
9 International Experience 227
Sarah Monk and Tony Crook
Introduction: making comparisons and transferring experience 227
Australia 231
Planning policy, planning legislation and its administration 231
Developer contributions to infrastructure 233
Developer contributions to affordable housing 236
Germany 239
Planning authorities and the planning system 239
Special mechanisms for controlling growth 241
Land readjustment 242
Provision of housing and related infrastructure 243
The Netherlands 244
Planning institutions and planning policies 244
Changing housing policies 247
Providing land and related infrastructure 248
United States 250
The constitution, planning and its administration 250
Developer contributions to infrastructure: impact fees 252
The impact of fees on prices and land values 255
Developer contributions to affordable housing: inclusionary zoning and linkage fees 256
Linkage fees 258
Summary and conclusions: comparing the English and international experience 258
Table of Contents xi
10 Summary and Conclusions 269
Tony Crook, John Henneberry, and Christine Whitehead
Introduction 269
Policies for capturing development value 270
National approaches 270
Locally based approaches 271
International experience 274
Overview 275
The economics of planning obligations 276
The sources and measurement of value 276
The complexities in assessing development gain 277
Planning constraints 279
Approaches to capturing gains 280
The financial aspects of planning obligations 281
Conclusions 285
Looking forward: England 286
Looking forward: international experience 288
Index 291
'Staff from the Department of Urban Studies and Planning have won this year's coveted Excellence in Planning Research Award for their text on Planning Gain. The award is made annually by the Royal Town Planning Institute, the global learned society and professional institute of chartered planners, following peer review of the best of the year's planning research by leading academics and practitioners. The award recognises the high quality and policy relevance of the work on planning obligations led by Emeritus Professor Tony Crook, Professor John Henneberry and Professor Christine Whitehead (at LSE) in collaboration with colleagues in the department, at the University of Cambridge and at the London School of Economics.
The work was commissioned by a wide range of organisations, including research councils and charities, government departments, and trade and professional bodies. Practitioners and policy makers helped design the research to secure its policy relevance. The work has led to many research reports, articles in research and professional journals, papers at professional and academic conferences, submissions to government consultations and parliamentary select committees' inquiries, and briefings for the policy and practice communities (local and central government and the legal, planning and property professions). The researchers regularly provided independent evidence on how planning obligations worked, critically commenting both on their effectiveness and on the policy changes regularly proposed.
All this work was brought together in
Planning Gain
authored by the award winners and published in 2016. The book tells the 'story' of how planning obligations became an effective means of capturing development value and of securing affordable housing and infrastructure funding from developers, in a way that is accessible both to other researchers and to policy professionals.'
The University of Sheffield, press release (9/9/2016)