Planning Health Promotion Programs: An Intervention Mapping Approach, Second Edition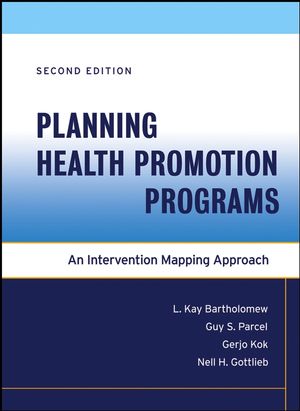 Planning Health Promotion Programs: An Intervention Mapping Approach, Second Edition
ISBN: 978-1-118-04684-5
Jan 2011, Jossey-Bass
800 pages
Description
This guide to the planning of health promotion programs uses the increasingly popular Intervention Mapping approach, a theory- and evidence-based interactive process that links needs assessment with program planning in a way that adds efficiency and improves outcomes. Students, researchers, faculty, and professionals will appreciate the authors' approach to applying theories of behavior and social change to the design of coherent, practical health education interventions. Written by internationally recognized authorities in Intervention Mapping, the book explains foundations in Intervention Mapping, provides an overview of the role of behavioral science theory in program planning¾including a review of theories and how to assess theories and evidence¾and a step-by-step guide to Intervention Mapping, along with detailed case examples of its application to public health programs. Planning Health Promotion Programs is the second and substantially revised edition of the bestselling resource Intervention Mapping.
List of Figures and Tables.
Preface.
Acknowledgments.
The Authors.
PART ONE: FOUNDATIONS.
1. Overview of Intervention Mapping.
2. Core Processes: Using Evidence, Theory, and New Research.
3. Behavior-Oriented Theories Used in Health Promotion.
4. Environment-Oriented Theories.
PART TWO: INTERVENTION MAPPING STEPS.
5. Intervention Mapping Step 1: Needs Assessment.
6. Intervention Mapping Step 2: Preparing Matrices of Change Objectives.
7. Intervention Mapping Step 3: Selecting Theory-Informed Intervention Methods and Practical Strategies.
8. Intervention Mapping Step 4: Producing Program Components and Materials.
9. Intervention Mapping Step 5: Planning Program Adoption, Implementation, and Sustainability.
10. Intervention Mapping Step 6: Planning for Evaluation.
PART THREE: CASE STUDIES.
11. A School HIV-Prevention Program in the Netherlands (Herman Schaalma and Gerjo Kok).
12. Asthma Management for Inner-City Children (Christine Markham, Shellie Tyrrell, Ross Shegog, María Fernández, and L. Kay Bartholomew).
13. Theory and Context in Project PANDA: A Program to Help Postpartum Women Stay Off Cigarettes (Patricia Dolan Mullen, Carlo C. DiClemente, and L. Kay Bartholomew).
14. Cultivando la Salud (María Fernández, Alicia Gonzales, Guillermo Tortolero-Luna, Sylvia Partida, and L. Kay Bartholomew).
References.
Name Index.
Subject Index.
"   We use the text in the program planning class for our MPH students in social and behavioral health. It is the strongest text methodologically in laying out the process of 'ecological thinking.'  "
-- Kenneth R. McLeroy, Ph.D., Associate Dean for Academic Affairs, School of Rural Public Health, Bryan, TX
Platform: Bartholomew and Parcel are both with the University of Texas/Houston School of Public Health, the oldest SPH in Texas and one of the top institutions in the country.
Reputation: This group are credited with coining the term/approach "Intervention Mapping", which is the book's widely accepted approach to health program planning and implementation.
Canon: Bartholomew/Parcel are part of the contributors' panel for Glanz (3E) and therefore known (or somewhat familiar) to thousands and thousands of faculty and students.
Currency: The general trend in health promotion/health education is for more practical approaches where theory is explicitly translated into method and action, as is the case in this book.
Faculty-Friendly: This book will be ideal as a text for a course on Planning and Implementing Health Promotion Programs, but it was not originally developed as a text. Reviews indicated that faculty would love to see a revised version that was easier to teach with (this has been incorporated into the chapter structure, the case selection, and the case structure). The new features a more step-by-step approach and supporting Powerpoint slides for faculty use in class presentations (developed by the authors as part of their seminars).