Planning and Assessment in Higher Education: Demonstrating Institutional Effectiveness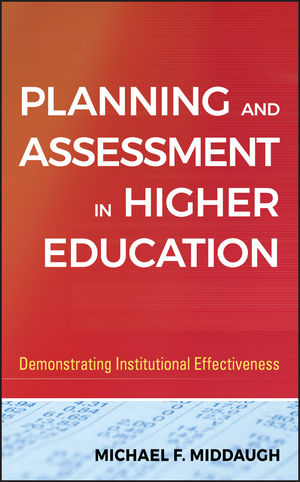 Planning and Assessment in Higher Education: Demonstrating Institutional Effectiveness
ISBN: 978-1-118-04552-7 January 2011 Jossey-Bass 256 Pages
Description
In this era of increasing pressure on higher education institutions for accountability,
Planning and Assessment in Higher Education
is an essential resource for college and university leaders and staff charged with the task of providing evidence of institutional effectiveness. Michael F. Middaugh, a noted expert in the field, shows how colleges and universities can successfully measure student learning and institutional effectiveness and use these results to create more efficient communications with both internal and external constituencies as well as promote institutional effectiveness to support student learning.
"How can the assessment of institutional effectiveness be used to provide a solid foundation for planning? Middaugh has crafted a comprehensive, practical guide that also explains what accrediting agencies really want and need to know about these topics."
—Elizabeth H. Sibolski, executive vice president, Middle States Commission on Higher Education
"Only Michael Middaugh, the unquestioned national leader in this field, could write such a lucid overview of how to make institutional assessment and planning really work as a tool rather than as a tedious requirement. He helped invent and shape the focus of national assessment rubrics and now offers his insights into how to make them work for your institution."
—John C. Cavanaugh, chancellor, Pennsylvania State System of Higher Education
"Middaugh provides extremely helpful and practical guidance and insights on how colleges and universities can use assessment tools and frameworks to improve both academic programs and administrative operations. A valuable and timely book for all higher education leaders."
—James P. Honan, senior lecturer on education, Harvard Graduate School of Education
Table of contents
Preface ix
About the Author xiii
1. The National Context for Assessment 1
2. Starting at the Beginning: Mission-Driven Planning and Assessment 23
3. Assessing Institutional Effectiveness: Student Issues 47
4. A Core Issue in Institutional Effectiveness: Developing Sensible Measures of Student Learning 89
5. Maximizing Human and Fiscal Resources in Support of the Teaching/Learning Process 109
6. A Comparative Context for Examining Data on Teaching Loads and Instructional Costs 133
7. Measuring Administrative Effectiveness 157
8. Communicating Assessment Results 173
9. Where Do We Go From Here? 193
Appendix A: University of Delaware College Selection
Survey 207
Appendix B: University of Delaware 2007 Study of Instruction Costs and Productivity, By Academic Discipline 215
References 227
Web-Based References 231
Resources for Further Reading 233
Index 235
Reviews
"The primary purpose of the book is to provide a tool box that will assist in the effective and efficient management of institutions of higher learning. Toward that end, [Middaugh] proposes a variety of methods and strategies for assessing institutional effectiveness and discusses the interpretation, communication, and use of data gained from assessment processes.
Middaugh highlights the usefulness of assessment as a management tool. He tackles the better known and understood areas of assessment such as student engagement and learning and instructional costs and productivity, and he also highlights methods and strategies in administrative areas where assessment is more difficult.
Middaugh?s books and articles are notable for readability and for the thoroughness of his approach. He begins by offering a historical perspective that explains the national context for assessment and planning in higher education. Moving beyond the conceptual/theoretical, Middaugh makes a strong case for systematic and sustainable assessment directly tied to mission-based planning. In this volume he offers practical advice about what should be done, why it should be done, and how best to go about doing it." ? Planning for Higher Education; reviewer: Elizabeth Sibolski, interim president of the Middle States Commission on Higher Education
"Planning and Assessment in Higher Education is a guidebook that should be on the shelf in offices of planning and institutional research, as well as in offices charged with responsibility for institutional assessment. In addition, the book can serve a wider purpose as an introduction and orientation or as a review of interconnected mission-based planning and assessment. In this context, I recommend it to senior-level administrators who might find it particularly useful in developing specific institutional approaches to management, to department heads and deans who stand at the front lines of institutional operations and who must plan and evaluate programs and services, and to new college and university trustees who might find it helpful as a frame of reference for institutional oversight responsibilities." ? Planning for Higher Education; reviewer: Elizabeth Sibolski, interim president of the Middle States Commission on Higher Education