Planning and Control of Manufacturing Operations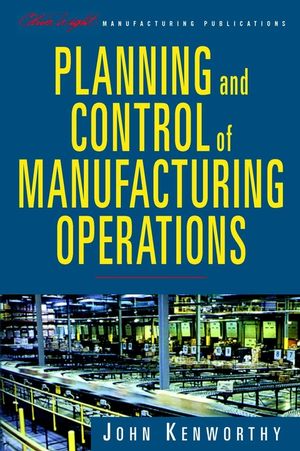 Planning and Control of Manufacturing Operations
ISBN: 978-0-471-25339-6
Mar 1998
262 pages
Description
Planning and Control of Manufacturing Operations

"In the best companies, Operations Management is now highly professional and it is recognized that simplification and effective planning and control are key contributors to achieving a competitive edge and profitable operation. Unfortunately, the majority of companies still lag a long way behind the best, but an encouraging feature is that most managers now recognize that they have a problem, even if they are not sure exactly what it is or how to solve it. Some of the author's objectives will be achieved if this book not only helps managers identify what needs to be done but also contributes to the generation of informed support and commitment to change from their colleagues."—John Kenworthy

Effective planning and control of manufacturing operations enable businesses to achieve maximum profitability by reducing uncertainty at all stages of the manufacturing process. This unique, one-stop resource offers an easy-to-follow overview of the principles and practices of manufacturing control, emphasizing practical approaches to and techniques for operations issues rather than theoretical discussions.

As he probes the growing manufacturing control dilemma, author John Kenworthy explores the roles and impacts of such factors as mass and batch production, the advent of computers, planning compromises, and the development of Manufacturing Resources Planning (MRP II). It turns out that many problems are common to different types of manufacturing enterprises, and Kenworthy offers a wealth of proven, practical solutions that can dramatically increase overall performance. There are strategic end-of-chapter exercises designed to help you assimilate important points, along with complete information on:
Achieving control—including order points, periodic reviews, stock projections, target levels, Material Requirements Planning (MRP)
Master scheduling—constructing a feasible operations schedule
Manufacturing orders—covering the complete life cycle—requirements, receipts, nomenclature
Bills of materials—controlling yields and shrinkages, phantom bills, option planning
Sales forecasting—reducing lead time, maintaining accuracy, direct and indirect extrapolation, the Pareto principle
Continuous improvement—Just In Time (JIT), reducing change-over times, movement/transport times, kanban control, purchasing
A thorough, accessible, and hands-on guide, this comprehensive reference is an invaluable aid not only for industrial managers responsible for planning and control, but also for students, trainers, and all those wishing to increase their understanding of manufacturing control systems.
The Manufacturing Control Problem.
Achieving Control of the Business.
Master Production Scheduling.
Manufacturing Orders.
Order Policies.
Lead Times and Safety Stocks.
Bills of Materials.
Sales Forecasting and Distribution Requirements Planning.
Capacity Planning and Short Term Scheduling.
Optimised Production Technology.
Just in Time and Continuous Improvement.
Implementing Manufacturing Control Systems.
Answers to Exercises.
Index.