Planning for Survivable Networks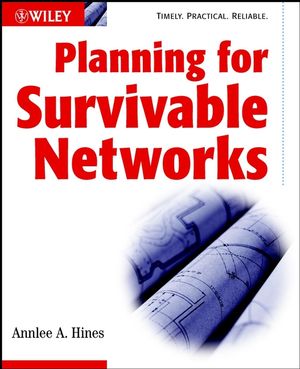 Planning for Survivable Networks
ISBN: 978-0-471-43199-2
Oct 2002
336 pages
Product not available for purchase
Description
Keep your network safe from security disasters with a dependable recovery strategy
Companies are finally learning that a network disaster recovery plan is mandatory in these times, and they must be prepared to make difficult choices about network security.
In the information-packed pages of this book, Annlee Hines shares her unique and diverse work experience. She explains that the first thing you need, whatever your business may be, is reliable information and an idea of what you need to protect, as well as what you are protecting it from. She then dives into a discussion of how much you can expect to spend depending on what kind of security your network requires. She also delves into addressing the variables that determine why your needs will not necessarily be the needs of your closest competitor.
Most importantly, Hines writes this valuable material realizing that you already know how to do your job --it's just that you now have to reconsider just how vulnerable the information nervous system of your company really is.
From major terrorist attacks to natural disasters to hackers, Annlee Hines explores how to defend your network and reviews such topics as:
* Probes, viruses, worms, and Trojan horses
* The most common vulnerabilities networks face
* Understanding and justifying costs
* Lessons to be learned from successful defense strategies
* Preparing for the worst and the requirements of network survival
* Remedies, cyber recovery, and restoration
Foreword.

Chapter 1: Introduction.

Chapter 2: Network Threats.

Chapter 3: Tactics of Mistake.

Chapter 4: Murphy's Revenge.

Chapter 5: ""CQD ... MGY"".

Chapter 6: The Best-Laid Plans.

Chapter 7: Unnatural Disasters (Intentional).

Chapter 8: Unnatural Disasters (Unintentional).

Chapter 9: Preparing for Disaster.

Chapter 10: Returning from the Wilderness.

Chapter 11: The Business Case.

Chapter 12: Conclusion.

Appendix A: References.

Appendix B: Questions to Ask Yourself.

Appendix C: Continuity Planning Steps.

Appendix D: Post-Mortem Questions.

Appendix E: Time Value of Money.

Appendix F: Glossary.

Index.