Plant Biochemistry and Molecular Biology, 2nd Edition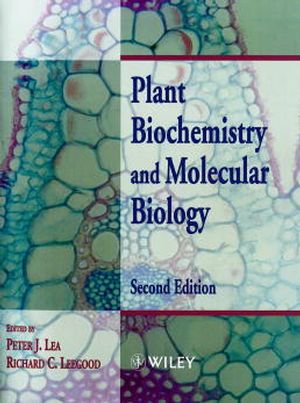 Plant Biochemistry and Molecular Biology, 2nd Edition
ISBN: 978-0-471-97683-7 January 1999 384 Pages
Description
Plant Biochemistry and Molecular Biology Second Edition Edited by Peter J. Lea Department of Biological Sciences, Lancaster University, UK and Richard C. Leegood Department of Animal and Plant Sciences, University of Sheffield, UK As research in plant metabolism and molecular biology continues to make great progress it has become essential for plant scientists to have an overview of both disciplines, which are becoming increasingly complementary in understanding plant function. Drawing on their own teaching and research experience, the editors and contributors have provided a timely, comprehensive and generously illustrated new edition of this successful introductory textbook. All of the chapters have been updated and revised, and a new chapter on secondary metabolism has been included. Plant Biochemistry and Molecular Biology will be invaluable to undergraduate and postgraduate students in the plant sciences and to all those requiring an introduction to current concepts in molecular plant science. Reviews of the First Edition "The aim of the editors to blend plant biochemistry with molecular biology is successfully reached and provided a new, well written text book which is easy to read." Journal of Plant Physiology "The contributing chapters are well written with clear illustrations and I would expect undergraduates, to whom this book is primarily targeted, to enjoy using it." New Phytologist "The evident teaching experience of the authors make this textbook a useful aid to students and researchers." Photosynthetica What the lecturers said about the First Edition: "A very useful text with a good balance of traditional biochemistry and molecular biology. Its usefulness is enhanced by a very clear and visually pleasing layout and the generally high quality and clarity of the writing." "A surprising amount of information in an easily accessible format." "Good coverage and depth. I'm not aware of any other book that deals with this material so well as this one. It addresses a real need in plant science teaching."
Table of contents
Energy Production in Plant Cells (J. Bryce & S. Hill).

Photosynthesis in C_3 Plants: The Benson-Calvin Cycle and Photorespiration (R. Leegood).

Carbon Dioxide-Concentrating Mechanisms: C_4 Photosynthesis and Crassulacean Acid Metabolism (R. Leegood).

Carbohydrate Biochemistry (C. Smith).

Plant Lipids -
Their Metabolism, Function and Utilization (D. Murphy).

Nitrogen Fixation (R. Smith, et al.).

Nitrogen Metabolism (P. Lea).

Secondary Metabolism (R. Edwards & J. Gatehouse).

Plant Pigments (G. Hendry).

Genome Organization, Protein Synthesis and Processing in Plants (M. Watson & D. Murphy).

Regulation of Gene Expression (A. Shirsat, et al.).

Molecular Control of Development (J. Bryant & A. Cuming).

Cell Culture, Transformation and Gene Technology (R. Walden).

Index.
New To This Edition
Covers advances in research and applications using the modern techniques of molecular biology and gene technology are also covered.
What's New
Well illustrated and referenced - including excellent summarizing diagrams

Thorough coverage of important current concepts in plant metabolism