Plant Breeding Reviews, Volume 26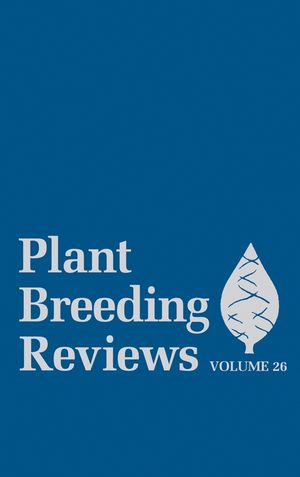 Plant Breeding Reviews, Volume 26
ISBN: 978-0-470-65031-8 April 2010 394 Pages
Description
This helpful book presents state-of-the-art reviews on plant genetics and the breeding of all types of crops by both traditional means and molecular methods. Understanding and preserving crop genetic resources is vital to the security of food systems worldwide. The emphasis of the series is on methodology, a fundamental understanding of crop genetics, and applications to major crops.
Table of contents
List of Contributors.
1. Dedication: George P. Rédei (Arabidopsis Geneticist and Polymath Csaba Koncz)
2. Developing Papaya to Control Papaya Ringspot Virus by Transgenic Resistance, Intergeneric Hybridization, and Tolerance Breeding (Dennis Gonsalves, Ariadne Vegas, Vilai Prasartsee, Rod Drew, Jon Y. Suzuki, and Savarni Tripathi).
I. Introduction.
II. Papaya and Papaya Ringspot Virus.
III. Development of Transgenic Papaya for Hawaii.
IV. Development of Transgenic Papaya for Other Regions.
V. Breeding Through Intergeneric Hybridizations.
VI. Development of PRSV-Tolerant Papaya.
VII. Future Aspects for Developing PRSV-Resistant Papaya.
VIII. Summary Comments.
Literature Cited.
3. Rol Genes: Molecular Biology, Physiology, Morphology, Breeding Uses (Margareta Welander and Li-Hua Zhu).
I. Introduction.
II. The Hairy Root Disease.
III. Ri T-DNA and Its Effect on Transgenic Plants.
IV. Synergistic Effect of Rol Genes.
V. Individual Effect of Rol Genes.
VI. Discussion and Conclusions.
Literature Cited.
4. Terminology for Polyploids Based on Cytogenetic Behavior: Consequences in Genetics and Breeding (Domenico Carputo, Elsa L. Camadro, and Stanley J. Peloquin).
I. Introduction.
II. Role of 2n Gametes and Endosperm in the Origin of Polyploids.
III. Terminology for Polyploids.
IV. Bases of the New Terminology.
V. Conclusions.
Literature Cited.
5. Breeding Barley for Resistance to Fusarium Head Blight and Mycotoxin Accumulation (Thin Meiw Choo).
I. Introduction.
II. Fusarium Species.
III. Fusarium Toxins.
IV. Losses in Yield and Quality.
V. Sources of Genetic Resistance.
VI. Traits Associated with FHB Resistance.
VII. Breeding Strategies.
VIII. Mutation and In vitro Selection.
IX. Genetic Transformation.
X. Conclusions and Prospects.
Literature Cited.
6. Using Genomics to Exploit Grain Legume Biodiversity in Crop Improvement (Sangam L. Dwivedi, Matthew W. Blair, Hari D. Upadhyaya, Rachid Serraj, Jayashree Balaji, Hutokshi K. Buhariwalla, Rodomiro Ortiz, and Jonathan H. Crouch).
I. Introduction.
II. Available Genetic Resources of Key Legume Crops.
III. Management and Utilization of Legume Genetic Resources.
IV. Impact of Genetic Resources in Conventional Legume Breeding.
V. Molecular-Enhanced Strategies for Manipulating Novel Genetic Variation for Legume Breeding.
VI. Advanced Applications in Legume Molecular Breeding.
VII. Conclusions and Future Prospects.
Acknowledgments.
Literature Cited.
Subject Index.
Cumulative Subject Index.
Cumulative Contributor Index.