Plants and the Chemical Elements: Biochemistry, Uptake, Tolerance and Toxicity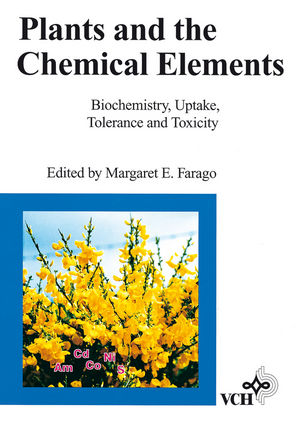 Plants and the Chemical Elements: Biochemistry, Uptake, Tolerance and Toxicity
ISBN: 978-3-527-61590-2 July 2008 Wiley-Blackwell 302 Pages
Description
How do plants react to elements in the soil?

A vital question, particulary in today's world of increasing environmental contamination...

The answer can be found in this book. It has an extraordinarily broad basis, compiling up-to-date information from numerous specialist disciplines. Key articles are devoted to
- Soil Chemistry and Bioavailability
- Metal-tolerant Plants
- Metalloenzymes
- Toxic Effects of Metals
- Radionuclides

Moreover emphasis is placed on environmental aspects, with detailed considerations of plants that hyperaccumulate heavy metals and plants that are indicators for pollution. A discussion of experimental techniques rounds off the book. They include sampling, sample preparation, analytical methods and aspects of quality assurance.

All in all a valuable forum for the exchange of current thinking across a broad spectrum of disciplines.
Table of contents
Soil Chemistry and Bioavailability with Special Reference to Trace Elements
Metal Ions and Plant Nutrition
Metal-Tolerant Plants: An Evolutionary Perspective
Plants that Hyperaccumulate Heavy Metals
Plant Metalloenzymes
Toxic Effects of Metals
Plants and Radionuclides
Plants as Indicators of Mineralisation and Pollution
Analytical Techniques for Plant Analysis
Phytochemistry: Methods for the Study of Inorganic Species in Plant Tissues
Index