Plasma Spraying of Metallic and Ceramic Materials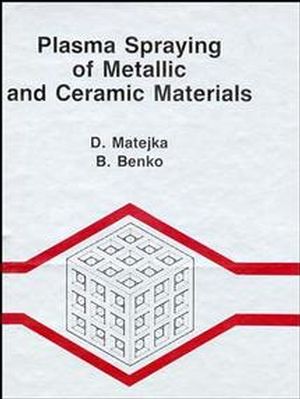 Plasma Spraying of Metallic and Ceramic Materials
ISBN: 978-0-471-91876-9 January 1991 280 Pages
Description
Plasma Spraying of Metallic and Ceramic Materials D. Matejka, Institute of Materials and Mechanics, Slovak Academy of Sciences, Bratislava, Czechoslovakia and B. Benko, Faculty of Mechanical Engineering, Slovak Technical College, Bratislava, Czechoslovakia Plasma spraying of metallic and ceramic powders is one of the many areas of thermal spraying technology which has developed rapidly in recent years. This book describes the theoretical principles of plasma spraying as well as practical applications. The physical and mechanical properties of sprayed coatings are discussed, as well as methods for their evaluation. The book also includes guidelines on choosing the appropriate spraying powder for a particular industrial application and attention is paid to the problems of the bonding of sprayed coatings to the substrate. The technological process of spraying flat, rotatory and internal surfaces is also discussed and the book is concluded with a section on the safety aspects of plasma spraying and reference to the hazards.
Physical Principles of Plasma Spraying Process.

Equipment and Accessories for Plasma Spraying Technology.

Bonding and Adherence of Plasma Coatings to the Substrate.

Selection of Powders for Plasma Spraying in Industrial Applications.

Technological Procedure of Plasma Spraying.

Application of Plasma-Sprayed Coatings in Industry and Research.

Testing of Physical and Mechanical Properties of Plasma Sprayed Coatings.

Problems of Work Safety in the Operation of Plasma Spraying Equipment.

Conclusions.

References.