Plasmid Biopharmaceuticals: Basics, Applications, and Manufacturing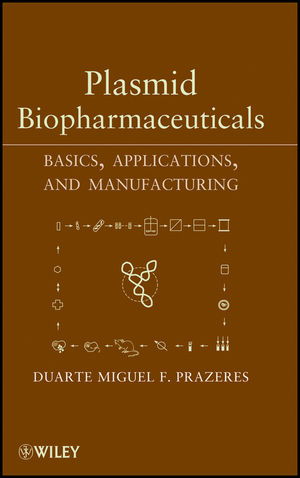 Plasmid Biopharmaceuticals: Basics, Applications, and Manufacturing
ISBN: 978-0-470-93991-8 July 2011 576 Pages
Description
The book addresses the basics, applications, and manufacturing of plasmid biopharmaceuticals. The survey of the most relevant characteristics of plasmids provides the basics for designing plasmid products (applications) and processes (manufacturing). Key features that the authors include in the book are: i) consistency and clear line of direction, ii) an extensive use of cross-referencing between the individual chapters, iii) a rational integration of chapters, iv) appellative figures, tables and schemes, and v) an updated, but selected choice of references, with a focus on key papers.
Table of contents
Preface.
Acknowledgment.
Abbreviations.
Part I Basics.
1 Historical Perspective.
2 Gene Transfer with Plasmid Biopharmaceuticals.
3 Product and Process Development.
4 Structure.
5 Analytical Characterization.
6 Delivery.
Part II Applications.
7 Ethical and Safety Issues.
8 Human and Veterinary Markets.
9 Human Case Studies: Pandemic Infl uenza and Critical Limb Ischemia.
10 Veterinary Case Studies: West Nile, Infectious Hematopoietic Necrosis, and Melanoma.
Part III Manufacturing.
11 Good Manufacturing Practice and Validation.
12 Product Specifi cations and Quality Control.
13 Cell Culture.
14 An Overview of Downstream Processing.
15 Primary Isolation.
16 Intermediate Recovery.
17 Final Purifi cation.
18 Process Synthesis.
Part IV Concluding Remarks and Outlook.
19 Concluding Remarks and Outlook.
Index.
Reviews
"While very technical and written for practitioners in the field, the writing is direct, and extensive references and a detailed list of abbreviations is included." (Book News, 1 October 2011)