Plastics Additives and Testing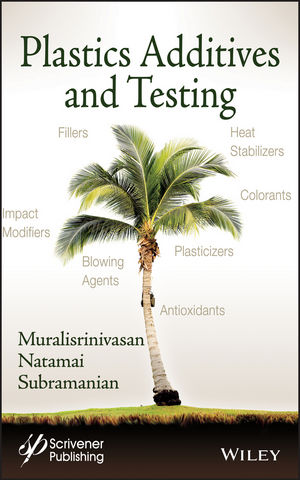 Plastics Additives and Testing
ISBN: 978-1-118-71059-3
Apr 2013
240 pages
Description
"Plastics Additives and Testing" is a practical book for engineers and operators and discusses both inorganic and organic chemicals that are widely used as additives in plastics processing operations.
It is common practice today to use analytical techniques to improve plastics processing.  Because it is critically important to manufacture quality products, a reasonable balance must be drawn between control requirements and parameters for improved processing method with respect to plastics additives. This book serves to implement this balance in the manufacturing line.
Written by a successful, international consultant with an excellent publishing track record, it combines plastics additives, testing and quality control and is a valuable and critical book for engineers and operators to have when performing their tasks.
Preface xiii
1 Introduction 1
1.1 Summary 4
References 4
2 Thermoplastics and Thermosets 5
2.1 Benefits/Advantages of Plastics 5
2.2 Classification 7
2.3 Thermoplastics 7
2.4 Thermosets 22
3 Types of Additives 35
3.1 Selection of Additives 36
3.2 Surface Property Modifiers 36
3.3 Chemical Property Modifiers 40
3.4 Processing Modifiers 45
3.5 Mechanical Property Modifiers 53
3.6 Aesthetic Property Modifiers 59
3.7 Other Additives 61
3.8 Additives from Natural Sources 64
References 65
4 Plastics Additive and Chemistry 73
4.1 Properties of Plastics 74
4.2 Chemistry of Additives 74
4.3 Chemical Properties of Additives 75
References 94
5 Organic Additives 101
5.1 Antioxidants 102
5.2 Antistatic Agents 102
5.3 Antifogging Agents 103
5.4 Antiblocking Agents 104
5.5 Slip Additives 105
5.6 UV Stabilizers 105
5.7 Nucleating Agents 107
5.8 Flame Retardants 107
5.9 Lubricants 110
5.10 Plasticizers 112
5.11 Impact Modifiers 113
5.12 Fillers 113
5.13 Organic Colorants 115
5.14 Foaming Agents 117
5.15 Chain Extenders 118
5.16 Organic Peroxides 118
5.17 Accelerators 119
5.18 Activators 119
References 120
6 Inorganic Additives 125
6.1 Heat Stabilizers 126
6.2 Flame Retardants 127
6.3 Fillers 128
6.4 Blowing Agents 137
6.5 Inorganic Colorants 138
6.6 Antimicrobial Agents 139
References 140
7 Additives and Processing 145
7.1 Plastics Processing 145
7.2 Nature of Plastics 146
7.3 Nature of Additives 148
7.4 Plastics Processing Technology 149
7.5 Injection Molding 150
7.6 Extrusion 153
7.7 Blow Molding 157
7.8 Thermoforming 157
7.9 Role of Additive 158
7.10 Rotational Molding 159
7.11 Calendering 160
7.12 Thermosets and Processing 161
References 163
8 Identification of Additives 167
8.1 Melting and Boiling Point 168
8.2 Organic Additives 168
8.3 Inorganic Additives 171
8.4 Morphology 173
8.5 Mass Spectrometry 173
8.6 Scanning Electron Microscopy (SEM) 173
8.7 Benefits 174
References 174
9 Testing of Additives 177
9.1 Plastics and Additives in Analysis 178
9.2 Properties of Additives 178
9.3 Testing of Additives 179
9.4 Brabender Plastographs 179
9.5 Extraction of Polymer Additives Systems 181
9.6 Liquid Chromatography 184
9.7 Gas Chromatography 186
9.8 Thermal Analysis 189
9.9 Thermogravimetric-Mass Spectrometry 192
9.10 FTIR Spectroscopy 194
9.11 Quantitative Analysis of Additives 196
9.12 Quality Control 198
References 199
10 Future Trends 203
10.1 In Plastics Packaging 204
10.2 In Medicine 204
10.3 In Electrical and Electronics Industries 205
10.4 In Building 205
10.5 In Engineering 205
10.6 Present Trends 206
10.7 Future Requirements 208
References 209
Index 000