Plato and Platonism: Plato's Conception of Appearence and Reality in Ontology, Epistemology, and Ethnics, and its Modern Echoes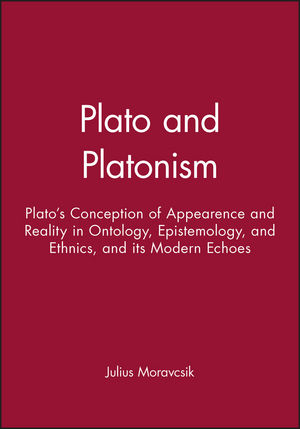 Plato and Platonism: Plato's Conception of Appearence and Reality in Ontology, Epistemology, and Ethnics, and its Modern Echoes
ISBN: 978-0-631-22254-5
Jun 2000, Wiley-Blackwell
356 pages
Description
Plato and Platonism reviews the natures and limits of Platonic interpretation. Students, academics and researchers will find that Moravcsik's careful and rigorous analysis offers an understanding of what Platonism in our times would have been like. The book leads us to an appreciation of genuine Platonism, rarely discussed today.
Preface.
Introduction.
Part I: How does Reality Account for Appearances? Plato's Notions of the Fundamental, the Good and the Intelligible:.
1. Insight and Activity.
2. The Forms: Plato's Discovery.
3. What We Are and What We Should Be.
Part II: The Many-Splendored Nature of the Forms, and the Ontology of Order:.
4. The Parmenides: Forms and Participation Reconsidered.
5. The Eleatic-proof theory of Forms of the Sophist.
6. The Ontology of Order Reconsidered: The Divisions and the Philebus.
Part III: Platonism, Ancient and Modern:.
7. Platonism in the Philosophy of Mathematics and General Ontology.
8. Platonistic Ethics: Effecting Reorientation and Sustaining Ideals.
Bibliography.
Index.
"As a historian, one may like or dislike Moravcsik's conception of Plato's philosophy. Yet, as a philosoper, one cannot but find it provocative. His Plato is not "the Platonist" of modern ontological debates, but neither is he so removed from our present concerns that he can only be an object of antiquarian interest. It is to be hoped that the Issues in Ancient Philosophy series will continue to publish books which similarly challenge our complacency about the adequacy of the pigeon holes in which we place the ancients." Dirk Baltzly, Mind 104, 1995
Comprehensive and ambitious examination of Plato's thought.
Author poses many of the same questions that Plato asked, and shows how Plato's answers are systematically interconnected.